It's kind of interesting to look back on the history prepping back to the golden-age of the Red Scare and Cuban Missile Crisis and seeing the gear that was marketed towards those wanting to survive the inevitable nukefest.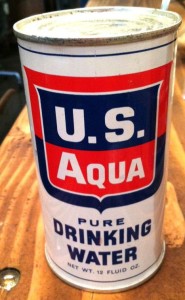 One of the things that I often see pictures of in old bomb shelters is canned water. More specifically, drinking water that was packaged in cans like beer or other canned food would be. Here's an example of what I'm talking about. Notice that this was in the days of dinosaurs before the pull-top can was invented. So, if you wanted to slake your thirst in the post-nuke world, you needed the old-fashioned church key to open it. Although there are plenty of these relics floating around, and people come across them from time to time and post pictures of them on the internet, very infrequently do you find those same people saying if the cans were still full or not. Assuming the cans were not lined with any particular barrier coating (which seems pretty likely considering the era), and their steel construction,  the cans probably succumbed to rusting pretty quickly. (This, by the way, is why those old Civil Defense water barrels were not stored full of water,  but rather stored in such a condition as to allow them to be rapidly filled when the warnings were given.)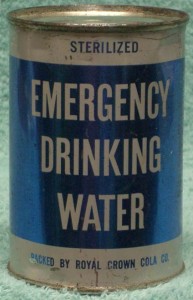 From a manufacturing standpoint, the market for this sort of thing would have been a no-brainer for a company that was already involved in the bottling/canning process. For example, here's some canned water that was canned by the folks at Royal Crown, or as we know it today – RC Cola. If you've already got the canning operation set up to make pop, why not just turn the taps on and can some water at the same time? No additional capital investment and a whole new market to sell to….seems like a win to me. But, realistically, that market for canned water, even at the peak of the crisis, probably couldn't even begin to compare to the market for the regular product.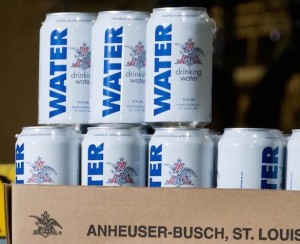 Interestingly, canned water actually does turn up these days in disasters. The folks at Anheuser-Busch, most famous for Budweiser beer, periodically use their resources to run off batches of canned water to be distributed in disaster areas. Compared to the old cans, these things are rocketships…pull-top cans so no opener is required, lined interiors to preserve taste, and aluminum construction to reduce weight and increase durability. And, considering the manufacturing technology and resources of a company like A-B, they probably produce more of these things in an 8-hour shift than most companies could have produced in a week back in the days of Sputnik.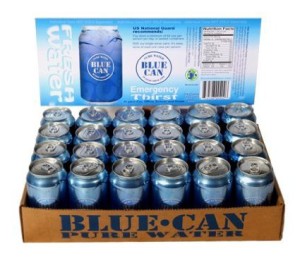 Interestingly, if a person was interested in getting some of this sort of thing for their own bunker you can find it online without having to hang around a disaster relief tent. There's at least one vendor on Amazon selling the stuff. (Blue Can) And although I rather like the idea of the convenience and durability of an aluminum can, I think that, when you really think about it, any advantages offered by an aluminum can are pretty much available in other forms…most specifically the ubiquitous plastic water bottle that we get at WalMart for around $5 a case. (Versus what amounts to about a buck a can for the aluminum cased stuff.)
I can't speak for everyone, but my own experience has been that the plastic water bottles are exceptionally durable and probably more durable than the aluminum cans. The biggest issue that springs to mind is what happens in cold weather…I've had cans of Coke freeze and explode like an M67, but I've never had one of the plastic bottles explode. The bottles also have a bit of 'give' to them so things that might puncture an aluminum can don't necessarily have the same effect on the plastic bottle. In fact, pretty much the only advantage I can come up with for the can over the plastic bottle is the opaque nature of the can preventing light transmission and inhibiting any type of growths.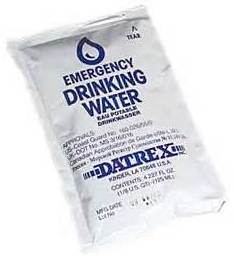 Two other packaging options are the 'juice box' style of packaging, which is also pretty tough to find, and the foil pouches that we often see marketed specifically towards preparedness. The boxes seem like a clever idea but I think theyre the least durable and therefore the least attractive option. I do very much like the foil pouches. While I don't think they have the puncture resistance of the plastic bottles, I very much like their small serving size…their small size means that if they freeze (like in your car in the winter) you can thaw them quickly and easily by just tucking them under your arm or sitting on them. Contrast that with trying to quick-thaw a 16 oz. frozen plastic bottle of water.
It's also worth pointing out that if you're the DIY type of guy you can actually 'can' water same as you'd can fruits or other foods using your pressure cooker. The water is completely sterilized, the containers are sterilized, and pretty much the only weak point is the glass container.