Many Americans agree and are stocking up on weapons after the country's worst mass shooting in three years. Gun retailers are reporting surging sales, with customers saying they want to keep handguns and rifles at hand for self-defense in the event of another attack.
This doesn't come as a surprise to me, nor should it come as a surprise to anyone who can think critically. After the 9/11 episode, we were introduced to the 'security mom'…a Linda Hamiltonized version of the Soccer Mom. Her concerns about getting her kids to soccer practice and keeping the up with Cub Scouts was supplanted with concerns over Homeland Security Threat Levels, bottled water, flashlights, and, in some cases, firearm proficiency.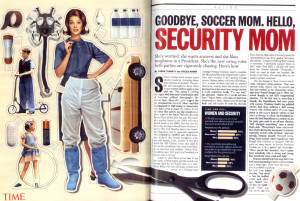 Now that we have people wandering into crowded areas and whipping out guns/knives, it seems rather reasonable to expect that a large part of the population is going to arm themselves 'just in case' regardless of the overwhelming odds against them ever being caught in such a situation. But…PowerBall is still a couple hundred million to one against winning, and, as they say, someone has to win. Same story here…you may not be the victim of terrorists, but someone will be. It doesn't hurt to have your .38 tucked in your pocket when you head to the mall, football game, or WalMart.
Living here in tropical Montana, the likelihood of Sudden Jihadi Syndrome (h/t Tam) is pretty slim. Oh, we have a university here and a fairly reasonably sized group of foreign students from other countries, but whenever they cause problems it usually involves alcohol and stupid coeds…and it is often resolved by the foreign exchange student quickly grabbing his passport and suddenly finding a reason to return home where Montana law can't get ahold of him. The notion of one of them shooting up the concerts in the park…well, thats pretty unlikely.
Now, with the sudden, and misdirected, focus on 'gun-control' (which is just the warm up act for gun-registration and gun-ban, usually in that order), folks are thinking it's high time to buy that AR, AK, and case of magazines before the .gov does it's usual trick of screwing with the gun rights of people who had nothing to do with the event.
So it appears there are plenty of folks out there that are making their purchases now, rather than later, because they believe there may not be a later. This is good, but they really should have had this sewn up back in 2004 when the ban expired. Better late than never, though…until it gets to be too late.