One of the staple topics that gets beaten to death regularly on survival forums is the "guns to keep caches at your [BOL/BOV/cabin/cache]." The post usually starts of with someone saying how their normal end of the world gear is a nice Rock River AR, a tweaked out Springfield 1911 and maybe a nicely appointed 870. Then they'll start talking about the guns they have hidden away 'just in case'…and it's an SKS, Mosin Nagant, and maybe a HiPoint or two.
How does this make sense? Yes, anything you store off site is going to be at risk for loss and you want to keep potential losses low. BUT…think about it: if you have to resort to the guns at your cache or family hunting cabin then you're life has hit a point where you want the best you can get, right? I mean, if those guns are good enough for your offsite stash then shouldnt they be good enough to be your primary guns?
I bring this up because I love the notion of disposable gear but with a high quality to price ratio. On a good day I can buy a used Glock for $300 but thats still more than I want to risk losing on a 'truck gun' or 'stash gun'. At the same time, I am not going into Katrinaville with a HiPoint pistol. But…there is a gun out there that is high quality, reliable, and cheap enough that if you lose it you don't really cry….and is far more confidence inspiring than any Bersa, Taurus, or HiPoint.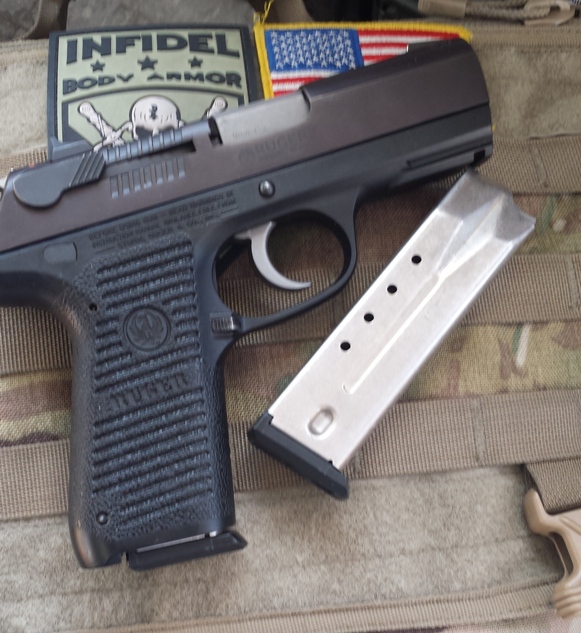 This is a Ruger P95. It is supremely rugged, and I've yet to pay more than $200 for a used one. It's a gun I am perfectly comfortable leaving under a car seat or in an ammo can under the porch with no real concern if it gets stolen, at the same time it is a gun I'd feel totally comfortable facing hordes of zombies with. These guns are ridiculously cheap on the used market, are built like tanks, have as few parts as the Glock, are lightweight, and run about as reliably as anything costing three times as much.
While I tote the Glock around day to day, I'd have no reservation carrying the Ruger. Although Ruger orphaned the P-series pistols two generations ago (the Ruger SR and Ruger American are Rugers latest failures at capturing the police/military market) they are still plentiful because they were inexpensive. Need proof? Go look at photos from 'gun buybacks'….there'll always be a P-series in there somewhere.
This one rolled across my desk when someone said I could have it for $200. It's an outstanding choice for a gun you don't care what happens to but it still worthy of carrying through an episode of The Walking Dead.
So, before you spend money on a HiPoint or Bersa, go look around and see if you can't find one of these.