My wife pointed out, after last weeks episode of TWD, that Rick has become Shane. Shane was all about how they needed to do whatever was necessary, that this would not all blow over in a few months, and that the world was going to be a completely different place with different rules and different morals.
And, now, it appears that in Season Five Rick has become what Shane was in Season Two.
Interesting.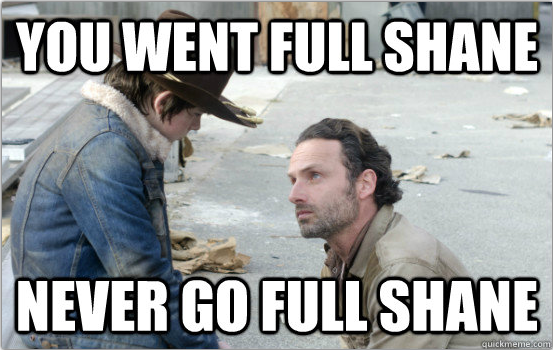 Now, you could argue that Rick has never killed innocents for the sake of the group, as Shane did when he shot Otis, but in this most recent episode of TWD we see Rick casually saying that if it becomes necessary they'll just "take" their new sanctuary from its owners. And Rick has, in the past, been less-than-reluctant to let strangers meet a gory demise without helping (which, yes, is not the same as killing them).
But it appears that ol' Shane may have been ahead of his time in regards to his outlook and attitude.