It's always interesting to watch the pricing on bargains suddenly go wonky. Last week I posted about the LifeStraws being $15.99 and quite a few people (myself included) jumped in there and picked up a few. Or, in some cases, more than a few.
Sadly, I just checked the link and they're back up to twenty bucks each. Bummer. Gotta strike while the iron is hot.
Same story on the OD hooded space blankets. They were $10.01 for a brief time and now they're back up to $20. Hopefully, everyone who wanted one managed to get in there and snag a couple at the $10 price.
And speaking of things to put away for that rainy day, I decided that $2.15 was as good as its gonna get, and with us being slightly ahead on the gas budget this month, so I went ahead and have the extra fuel cans filled. Those are the lovely 'Euro/NATO-style' cans that I got from Lexington Container a couple years back. Don't be tempted to buy the ones you see in Sportsmans Guide and a few other places…those are the cheapo Chinese cans and they are worthless. Yes, these cans are going to be expensive at around $50 ea (plus shipping) but when it's 2am, pouring rain, and you're on the side of the road hoping to outrun whatever it is that's got you running, you'll think that fifty bucks is a bargain to have five-gallons of fuel perfectly preserved and ready to go.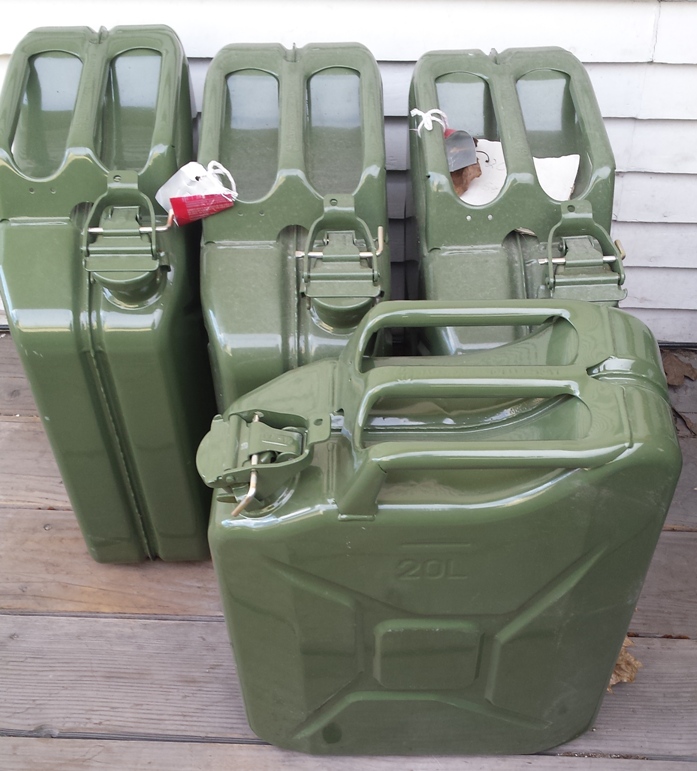 And, of course, each one of those cans represents x amount of hours of electricity courtesy of the generator. And electricity means hot water, hot food, lighting, communications, furnace blowers, etc….in short, those cans hold civilization. (Which  sorta explains those Mad Max movies)
So, a somewhat productive last couple of days…picked up some extra water filters, filled some gas cans, did some grocery shopping. The weather has gotten nicer here so I expect I'll be doing some spring cleaning and organizing shortly.