This post on arfcom caught my eye. Rather than buy a 12v lamp for use with a battery, this fella converted a regular household AC lamp to run an LED 'bulb' off his 12v battery.
This sort of thing intrigued me and I decided to try it. While we have several options for lighting around here, I'd like to have something that doesn't look like the kind emergency lighting youd find in a stairwell. Something very subtle and 'normal looking'.
A quick trip to Amazon for the necessary parts:
The next step was to pick up a lamp to experiment on. As it turns out, I found a lamp that already ran on DC (it used a transformer to run off AC house current) and was LED. Since that was 2/3 of the battle right there, I figured I'd start with that.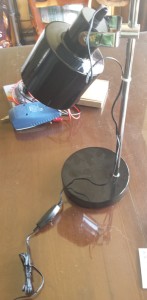 Reading the details on the made-in-China transformer said, if they can be believed, that power draw was something like .33 amps.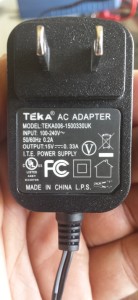 Conveniently, they labeled the wires as to +/-. Simple matter to cut the transformer off and connect the wires for the cigarette plug to the lamp wires…keeping the polarity the same.

Once the transformer had been removed and replaced with the 12v plug, I plugged it into my old ConSci battery pack to test.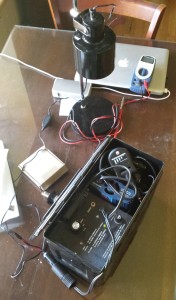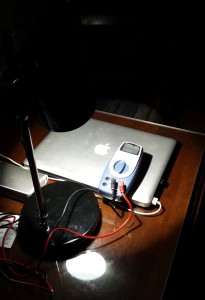 Unsurprisingly, it works. I'll tuck it away with the battery box and leave it for the next time I need lighting when there's no available electricity.
Of course, the bigger plan is to use it in conjunction with the larger battery backup system I'm planning. Nothing fancy..a couple big deep cycle batteries, a smart charger, and a bunch of outlets and wiring to allow me to run emergency lighting and communications for a week or so on battery power. Thats the bigger post Im working on. Gonna be a little while on it, though, since it's going to take a while to scratch up the cash for the batteries. But…when it's moved from 'theory' to 'in progress' there'll be plenty of posting on it.