Nice day outside. Time to set out the generator and run it for a while to make sure everything is working for when we need it.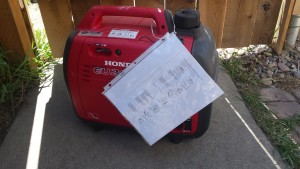 I keep a copy of the startup/shutdown instructions attached to the generator so there's no doubt about doing things the right way. Sure, I commit as much of it to memory as I can but you never know when someone else may be needed to start/stop it and this way they can have all the proper info right there.
In a crisis the only thing I really need the generator for is to keep the freezer/fridge cool and maybe run the furnace blower. In the winter any food can simply go outside and the generator will be mostly for just running the blower and charging batteries.
Household emergency lighting will be mostly LED lights run off a couple deep-cycle batteries. Thats a project I'm kinda working on at the moment.