Well, I guess since the cat is outta the bag, I can quickly mention a cool toy I was gifted.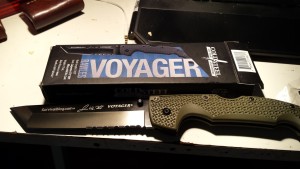 The knife is done by Cold Steel with input from SurvivalBlog's own ,Rawles. (Yup, thats his name on the blade. Yes, they included the comma.) Proceeds from the sale of the knife go to charity.
This monster of a pocket knife was gifted to me at the Missoula gun show a couple weeks ago. It's an interesting knife and a far departure from what I normally carry around. While calling it a 'pocket' knife may stretch the definition of 'pocket', it definitely doesn't depart from the definition of knife. This thing is a big folder with a half-serrated blade, beefy, rough-textured handles, and everyones favorite black/olive tacticool finish. It's a litte big for my personal EDC, but it will definitely go in my bag when I'm out tromping around the woods or E&E'ing ahead of the zombie hordes. Personally, I like half-serrated blades. Sometimes stuff needs to be cut that is just too challenging to a straight blade….nylon/plastic strapping comes to mind…and the serrations make short work of that sort of thing.
From Cold Steels website:
Cool knife with cool backstory. My thanks to the person who generously gifted it to me.