As I've mentioned a few times here, my local Albertson's grocery (and many other groceries as well) have a little bin in the meat department where the put the stuff that is about to expire and mark it down for a quick sale. I call it 'Remaindered Meat'. It's perfectly good, you just have to either use it or freeze it within the next day or so. A few months back, I discovered what I have come to call The Meat Tray: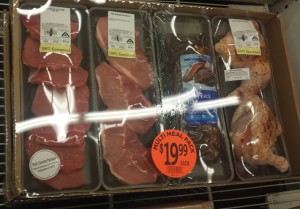 They take four trays of remaindered meat, bundle it together, and drop the price to a flat twenty bucks per. usually its steak, chicken, pork and then some other random meat. In the image above, the random meat is a package of precooked BBQ ribs. This is pretty much a weeks worth of dinner meat if you plan properly. I usually break the package in half – one half into vacuum sealed bags for the long cryo nap, and the other half goes in my kitchen freezer for immediate usage. Hey, for twenty bucks how can you go wrong?
Check your local grocery store next time youre there…chances are good they do something similar. You may find it all the way at the end of the display case, or you may find it mixed in with the 'regular' meats…but it's worth the effort to find those remaindered meats.
When the apocalypse gets here, I am NOT eating TVP.