The post Thanksgiving turkey abundance has finally abated. I was in my local Albertson's and, as usual, I did a quick pass through the meat department looking for bargains. They had boneless turkey breast, seasoned with rosemary or garlic, marked down 30% off the regular price. Hmmm.
"Excuse me. Is the manager around?"
"Is there a problem?"
"No problem, just wanted to ask him something."
:::she trundles off to get the manager. Manager shows up.:::
"Can I help you?"
"Yeah, you've got a dozen trays of turkey breast in the bin there marked down 30%. Would you gimme a better deal if I took all of them?"
"Best I can do is 50%, I can't…"
"Done."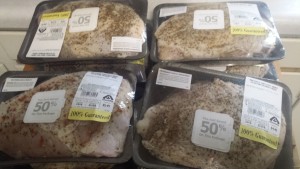 So, these will get vacuum sealed and then off to the cryo-nap. Now, lets do some math. Each turkey breast is enough for two people. With the discount, that's about $1.35#. Add in a box of Stove Top stuffing at $1.00 (purchased in bulk when on sale), add a can of corn (also purchased by the case on sale). And you have a basic turkey dinner for two people at a price of..hmmm…about $1.50 per person. And thats for a not-inconsequential amount of food landing on your plate. It all comes out of storage or the deep freeze, so it's good to go for the next, oh, five years or so.
We may store ammo & camo, but food is something we know we're gonna wind up using. You can never go wrong taking advantage of sales like that. And…don't be afraid to ask for a discount. They're not gonna throw you out of the store or anything..worst that happens is they say no.
Security, thy name is food.