I try to avoid potential problems when I can. I try to use factory mags whenever possible.However, in some cases, a non-factory or non-OEM mag can work just as well. A good example would be contract AR-15 GI mags. By and large, every Okay magazine is…well, okay. On the other hand, some non-facotry mags are outrageous failures – like USA Brand magazines. When the election was a-brewing, and I was planning on President Hillary, it seemed prudent to stock up on more happysticks. Now, Glock mags were about $30, and the MagPuls, though cheaper, were not available yet. I wanted to stock up on some happysticks for speculative purposes and I wanted 'em cheap(ish).
Cruising over at Tams blog, I noticed the ETS magazines. Now, I don't normally mess with non-factory mags for pistols…but…these aren't for me. These are strictly for tucking away for resale after the next ban. So, at a sale price of about $12.95 ea. (and after asking Tam about her opinion on them) I went ahead and bought 'a bunch'. And this is where we segue….
Customer service, man. Those geeks at Palmetto State Armory took their sweet time. I ordered these things on the 28th of November, they didn't even ship 'em until December 5th, and the bloody things didn't even get here until the 13th. Annoying.
Back to topic……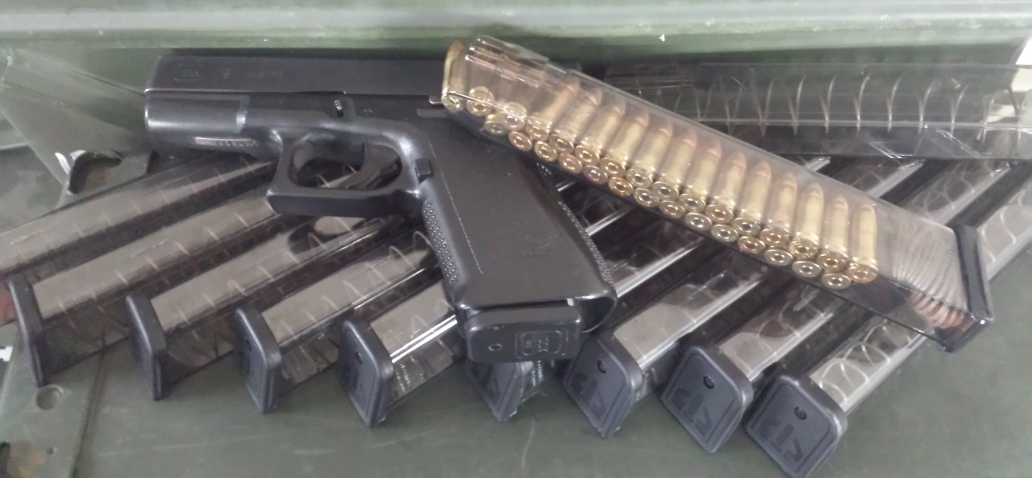 I really prefer metal feed lips in magazines. The reason is that I feel that if I leave a magazine loaded for a length of time, the constant pressure against the non-metal-reinforced feedlips will eventually splay them out a bit and cause problems. Glock has metal liners in their mags and this is the main reason that all of my kept-loaded-and-waiting magazines are Glock factory mags. However, Magpul's mags seem pretty dang good even without the metal liner. But Magpul uses some pretty solid plastic..it doesn't have as much give as other plastic mags. These ETS mags, which are transparent..a fun novelty, seem to be of a thinner, less rigid plastic. This has me curious about the feed lips. But…not really my problem since these are for Deep Sleep and eventual resale. I suppose f I were going to use them in practice or competition, where I would load them at the range, shoot em off, and then leave them unloaded in storage, it wouldnt make a difference.
But…this is all speculation. For all I know these things will store loaded just fine. I'll pull a couple out, load em up, and let 'em sit for a few weeks or months and then mike 'em out against their unloaded brethren.