So I stopped in at the Mormon cannery the other day. Actually, if you want to be technical, its the Bishop's Storehouse or Missoula Home Storage Center. What it actually is is a solid example of a group of Like Minded Individuals working together for a common benefit. Say what you will about the Mormons, they take care of their own and are not screwing around about it. Their logistics are amazing.
I hadn't been up there in several years since they stopped the DIY dry-canning opportunities. Nowadays you can go up there, but instead of canning the stuff on your own you buy it already canned. It's certainly more convenient, but I really liked the hanging out and interacting with other (somewhat) like-minded folks.
Anyway, I went up there not because I needed anything but because a friend of mine wanted to go and he'd never been there before. He wound up with a few hundred dollars of assorted goodies and all parties concerned were glad to help. The official line, as I understand it, is that the church offers the services and products of their food storage facility because they want to help their fellow man. Good on them. I've been told by people with a more pragmatic bent that the more accurate reason is because if they make the food storage available to their neighbors it lowers the odds of the neighbors forming an angry mob and coming to take their food storage.. I suspect there is an equal element of truth to both statements.
If you've never been to one of these places, it is an outstanding source to get some staple goods at unbeatable prices to round out your home storage. The place is almost exactly like Costco but smaller and with about 200% more Jesus. In all my trips there I never once had anyone put a religious spin into things except for starting the visit off with a quick prayer. No one tries to convert you, engage you in religious conversation, or anything like that. We all know why we're there and we get it done.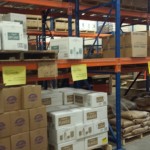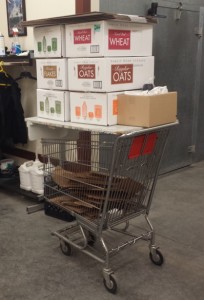 What they offer are very basic foodstuffs. Wheat, onions, carrots, sugar, pasta, dried apples, oats, etc. These are things that you could survive on by themselves if you absolutely had no choice, but they're much better used in conjunction with other storage foodstuffs.
Anyway, it was a nice visit. I always feel a sense of belonging around the poeple there when I go…not because of some religious compatriotism but rather because I'm around other people who don't think stuffing your basement full of food, ammo, and toiilet paper is a weird idea.