I may not have a lot going for me, but Crom as my witness…..I will never be hungry.
I like pasta. I've cut back on it a bit, but I make a very nice bolognese sauce as well as a very nice tomato sauce. Anyway, the magic number for me for pasta is $1/#. When I can get it for less than that, I'll stock up. The lower the price, the more I stock up. Pasta keeps quite well, and I use it fairly often…probably 2# a week. So, my  local Albertson's had the stuff on sale for $.050/#. This was the same sale as they had last June. This time, I was merciless. Last summer was rigatoni, this time – ziti. (Who doesn't love them some baked ziti????)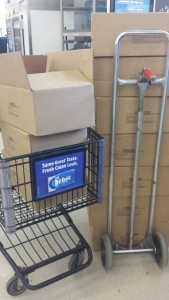 You know you've maxed out your shopping skill level when they start bringing out your purchases on a hand truck in addition to a shopping cart. The promotion was part of some 'Monopoly' themed contest they were having. That's when it got amusing…
"Ok, 160 boxes of pasta, at fifty cents each…"

"And there's a 10% discount for buying by the case.", I gently reminded her.

"Right. So that's going to be $80 less 10%….so….$72."

I hand her the cash.

"And here's your receipt and you get….177 Monopoly pieces."

"I'm sorry…what?"
"You get 177 Monopoly pieces. Are you playing the game?"

"Uhm..no…but with 177 pieces I think I might have to."
Final analysis? For you numbernerds, the scoreboard looks like this:
Normal price: $298.40
Price with sale: $80.00
Case discount: – $8.00
Final total: $72 or $0.45/#.
Now, yes, I could tuck away all that food but my habit as of late has been that when I find a *really* good deal on something, I set aside $20 and donate the food to the food bank. So, they'll get about three cases. It's 'Karma Helper'.
Yes, there's some math discrepancies going on. I think thats because they're factoring a slightly different pricing schedule. Fact remains though: awesome deal.