So, with the forecasted bad weather a-coming, I decided to stage a few things in case the power went out. Grabbed the trusty Streamlight Siege and hit the switch. Fluttering, flickering light. What the heck? Opened it up and found, oddly, wetness/moisture on the bottom of the interior of the light. Apparently one of the batteries had sprung a leak and I caught it way early. As you can see in the image, the lower edge of the battery split open. I've had batteries go bad in MagLites and corrode in there, but I've never caught a battery issue right as it happened. Interesting. There appears to be no damage to the Siege…just wiped up the moisture and swapped out the batteries. The batteries in question, BTW, were some Duracells that had an expiration date of 2016.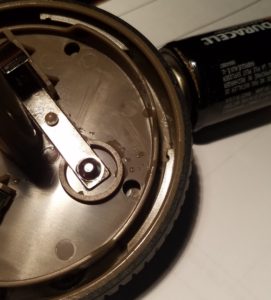 Normally, I am loathe to leave batteries in something for an extended amount of time, but you can't really leave critical gear un-batteried. The next best thing would be to regularly inspect the device for damage at a scheduled interval. Clearly I need to check on this sort of thing once every couple of months.
It's a pain in the rear, but part of being prepared means having gear; and having gear means you have to maintain that gear, and that means regular inspections/function tests. I've no doubt that if I hadn't caught this, I'd be looking at having to replace this lantern in a month or two after the innards corroded.