Although most folks regard me as some sort of Firearms Guru And Resident Montana Love God, I'm slightly more faceted than that. Not much, mind you..but slightly. Some folks think that I like to cook. Not so. I like to eat, cooking is just how I get there. The side effect of that, of course, is that I'm a pretty decent cook.
So it's winter in Montana and, really, who has time to cook? But sometimes you want something satisfying for those cold winter days. A few months back I was at a restaurant with a friend and they had chicken gumbo on the menu. Cool. So I ordered it up and, while good, there was an element missing. I asked the waitress to check with the kitchen and confirm my suspicion. Indeed…there was no okra in the gumbo. Without okra it is not gumbo, it is simply soup. So, I decided I'd start working on a recipe to make my own gumbo.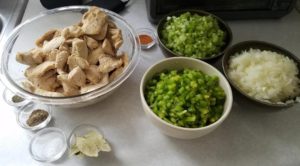 After a half dozen attempts, which were all pretty good actually, I settled on one recipe which I tweak a little bit here and there. I'm simmering a yuuuuuge batch of it right now. Some will get frozen, and some will get pressure canned. Here's the recipe as I found it. The original recipe is bold, my comments are not:
2 tablespoons vegetable shortening. Screw it, I use butter. Because butter.
2 tablespoons flour
1-2 pounds of diced chicken. I used skinless, boneless chicken breast. I like lotsa meat so I usually go with 1.5-2#. Adjust as you see fit.
5 cups chicken broth or stock. I'm lazy, so I use canned.
2 onions, finely chopped. I run it through my Cuisinart to get it nice and fine.
2-3 ribs celery. I cut these into narrow strips and mince them as small as I can.
1 green pepper. Cut up same as celery.
8 tomatoes, diced. Again, lazy. I use 2 cans of diced tomatoes.
1/2 pound okra cut into 1/4″ pieces. I use frozen.
1/4 teaspoon thyme
1 bay leaf. I use a couple more than that.
1/2 teaspoon pepper
1 teaspoon salt – Way too much salt, IMHO.I use about 1/4 and then salt later in the simmering, or, more often, at the table. Salting too early always seems work out poorly. Salt food as a final step.
1/2 cup uncooked rice – I'll add rice if Im not canning it later. When I do add rice, I add about 3/4 cup. I like a thick gumbo and the rice absorbs excess liquid.
Cajun seasoning – not in original recipe. I cook the chicken in this and save some for seasoning during simmering.
Hot sauce or Tobasco – Again, not in original. Used for seasoning in the simmering process.
Take the chicken and cut it up into small pieces, kinda like you were doing a stir fry, and cook in butter with a sprinkling of cajun spices. Cook until chicken is no longer translucent. Set chicken aside.
Melt the shortening or butter, and add the flour. Stir over low/med heat until flour is browned. Don't burn it or you're screwed.
Add the trinity: onions, peppers, celery and cook until onion is translucent. I usually throw in some more butter.
Add broth slowly, stirring all the while.until it reaches boiling.
Add tomatoes, okra, rice, celery, salt, pepper, thyme, and bay leaf; bring to boil.
Take the cooked chicken and chop it up into the size pieces you want. I run it through my Cuisinart using a dough blade (plastic) instead of the sharp (metal) blade. Shreds it nicely. Add the chicken to the pot. Bring to a boil, reduce heat, cover, and simmer.
How long? I let it go for a couple hours but its up to you.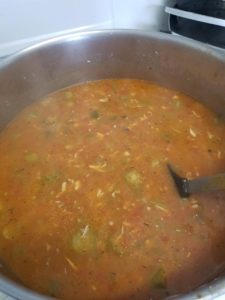 In the simmering, I'll add a little hot sauce or Tabasco to give it some body. Use your own discretion. You can also add more Cajun/Creole seasoning during the simmer process to really dial it in.
I don't use the rice in the cooking process because in canning, the rice gets mushy. If I want rice I'll cook some up and add it to the gumbo at the time I'm consuming it.
I usually add a couple more bay leaves than called for. Depending on how thick or thin you want your gumbo, simmering uncovered will reduce it or you can add some uncooked rice to suck up excess liquid. For storage, more liquid seems to work out better for reheating purposes.
And. of course, time to break out the Manhattan Project gear and can this stuff…
The canner is an All American #925. It should be called All Your American Money. It's wildy expensive but it is literally built to last a lifetime. Holds 19 pints or 7 quarts. No gasket to replace. Here to stay, built to last. Pay alot, cry once. Zero recommends.
If you don't have a good pressure canner, I highly recommend this one. It has worked flawlessly for me in the almost-ten-years I've had it. It lets you can a large amount of food and can double as an autoclave. (And probably as a water distillation device with the proper tubing.)
And , yes, there probably shoulda been some Andouille in there but it isn't easy to find good sausage.