I've mentioned the Costco/Kirkland canned roast beef before. It's really good stuff and although food preferences are subjective, I recommend the stuff highly. Last time i went to buy some at CostCo they no longer had it and I was told it was only available through the website. Bummer. But, apparently, it's back on the shelf at my particular CostCo. As I was picking some up, I noticed that they also had cans of pulled pork. The thing that really caught my eye was that the pulled pork was quite a bit cheaper than the beef. Well, for my end-of-the-world planning, protein is protein. So lets pick up a roll of four 12 oz. cans for $6.99 which comes out to…uhm.. lets see….$2.33/#, which is actually pretty good.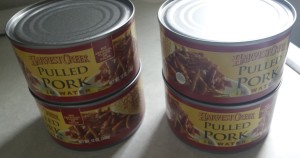 I figured I'd try one of the recipes on the can and see how it turns out. In this particular case, a form of chili. Now, lets get this part out of the way – I'm from the school of thought that says chili doesn't have beans. I'm not going to argue it with you, I'm just puttin' it out there. Moving on, now.
1 can of pulled pork
1 diced green pepper
1 diced onion
1 small can of chiles
1 can of diced tomatoes
And we'll toss that in the cast iron, cover it, and simmer it for an hour to give everything time to mix.
Turns out, it was actually pretty good. The pork isn't really 'pulled' as we recognize it from, say, a good BBQ joint. It's more 'flaked', like tuna fish. But, even though like all meats it smelled like cat food when the can was opened, it was good.  For the price, this is an excellent product to have on the shelf…cheaper than the roast beef and quite useful in a variety of dishes.
=-=-=-=-=-=-=-=-=-=-
Hey! Paratus is this coming Friday! Tell your friends!