I'm a big fan of the Water Jel burn relief product. This stuff is the most awesome thing in the world for taking the pain out burns. Years ago I made the mistake of picking up a lawnmower by the exhaust manifold. Ow. I literally could not sleep unless my hand was clutching a bag full of ice cubes, the pain and ache was that strong. Nowadays, I slap some of this stuff on it and -presto- the pain goes away. Nothing magical, its just a topical anesthetic, but when you burn yourself, especially on parts of the body that really make you feel it…like fingertips…the stuff is a wonder.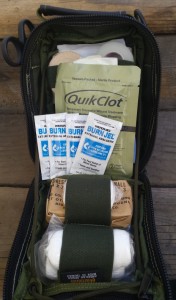 I keep the large bottle of it around the house but thats really too large for most first-aid kits. Fortunately, they offer single-serving 'ketchup packets' of the stuff. Several of these are going into the various FAKs that go in the hunting/fishing bags. Nine times out of ten the burns I get outdoors are the simplest and stupidest ones….those stupid wire handles on the canteen cup. Its a long day of chasing Bambi, you stop to heat some water on the esbit stove to mix up some lunch, your hands are a little cold so you don't notice how hot the wire handles are at first, and…ouch. And while burns are never fun, the ones on fingers..esp fingertips….really suck. So…a couple packets of this stuff will go into each FAK.
As I was ordering the stuff up offa Amazon I noticed they even make a 'military' kit that is suitable for white phosphorus injuries. Kinda cool, although if I'm in a situation where there is a genuiune risk of Willy Pete injuries then things have truly gone off the rails.
I'd posted a while back about Water Jel but didn't mention the extremely convenient single-serve packets. I ordered them up a few days ago and they just arrived. Figured I'd mention it because it is some really awesome stuff and there's really no excuse for not having some in your kits when you can get it in something as convenient and small as the single-serving packets.