The big Festivus gift this year? Well, check this out… for the last week or so, the wife has been spending all her time in the living room configuring her computer for some new games that she was interested in playing. Nothing surprising there, after she's done fighting the forces of evil at her job she often spends a few hours a night fighting them online.
So I open my suspiciously large wrapped gift this morning and inside the box is – a custom gaming PC that she built from parts and spent the last few days configuring and installing, right under my nose. She built it so that it looks like her computer and that way could do all the work on it in front of me without me being the wiser. How cool is that? And the best part? Windows 7….now thats thoughtful! SSD boot drive, awesome graphics card, modular expandable case, etc, etc. and its preloaded with Skyrim, Battlefield and WarCraft.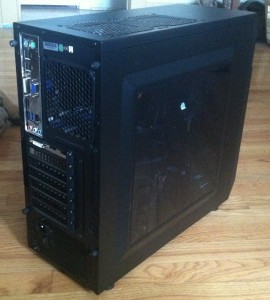 I've been using the same computer for the last seven or ten years and would never have bought one on my own. I tend to just use peoples hand-me-down computers because I'm too cheap to buy a new(er) one. As long as it runs my browser, lets me get email, and that sorta thing Im happy. So a dedicated gaming box…thats quite the toy.
So there you have it….not at all topical or gear-related but still one of the most awesome gifts I've ever gotten.