You guys remember Hydrox cookies? If you couldn't pop for real Oreos, you bought Hydrox. Much like how if you're on a budget, you don't buy Frosted Flakes but rather the generic store brand 'Frostie Flakes' or some such (Slogan: "Theyrrrrrrrre….okay".)
To me, Streamlight has always been the working-class version of SureFire. Yes, Streamlight has, as I read it, been around a tad longer than SureFire but SureFire gets the rep as the 'high end' tacticool product. (Interestingly, Hydrox came out before Oreos, as well.)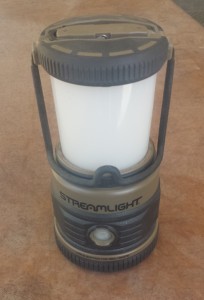 I'm kind of a gear snob, but I'm a pragmatists even more. A few years ago Streamlight came out with a product that, as far as  I know, has no comparable version from SureFire…the Streamlight Siege. (Although, to be fair, Eveready and a few others make a similar product but I don't believe it to be as rugged and well thought out as the Streamlight product.)
The Siege is an LED lantern for area lighting. Nothing remarkable about that, but as you look the product over more closely you get the idea that it was designed for a very particular demographic….we happy survivalists.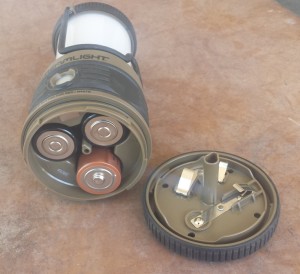 The Siege runs on three D-cell batteries….one of the most common sizes of batteries around. Just about everyone has a couple D-cell MagLites floating around the house or car..the Siege takes advantage of that common battery. If you really want to streamline things, there are battery adapters that allow you to run one size of battery in devices meant for a larger size. Most often we see this with adapters that let you run AA-batts in devices that were meant for D-cells. But, my logistics revolves around three battery sizes (AA,D, and CR123) so I have plenty of D-batts laying around. (Interestingly, it seems like virtually the only thing I have that runs on D's these days are flashlights. The days of radios and other devices running on D-batteries is coming to a close. )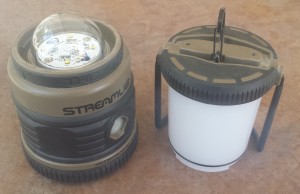 The light source for the Siege is four white LED's, and a fifth red LED. Holding down the one control button toggles between red or white. When the white LEDs are selected you have a choice of three brightness levels, starting with the highest. When the red LED is selected you have one brightness level, but double-clicking the button puts the red LED into SOS blinky mode.  The plastic 'shade' of the Siege diffuses the glow of the LEDs and is removable if you want more harsh lighting.
The top and bottom of the Siege has rugged rubber 'bumpers' making the light pretty resistant to being dropped, knocked over, or just banged around. Theres a foldaway clip on the underside of the light for hanging it upsidedown when you have the shade removed, and there's a bail handle on the other end to hang it from whatever is handy when you do have the shade on.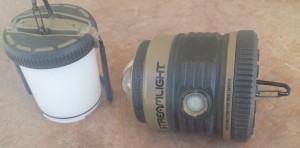 The non-skid tread on the bumper-like bottom of the light keeps it from sliding on slick surfaces and provides an excellent grip for unscrewing the base to change batteries.
Light output on low is enough to illuminate a room so you don't trip over anything, on high it's bright enough to get things done but you'll still feel like you're in a power outage. Where this light seems to really shine (as it were) is as an emergency 'area light'. When the power goes out its the light you turn on and stick high up in a corner of the room, hang in the stairwell, or put in your emergency gear storage area. It's an awesome emergency light for when the power goes out and you need some light to get your gear together or start up your secondary systems (generator, transfer switch, etc.)
I haven't beaten the crap out of it yet, but it has rolled off my desk a few times, and once bounced out of the truck….seems to still be doing just fine. Your mileage may vary. Personally, I've been very pleased with mine and will be getting three or four more as spares/backups/loaners.
They're available at the usual sources, like Amazon, but once in a while you can find an outdoors-gear vendor having them on sale. Even at regular price, though, they're a good purchase.