Another glorious day here in paradise. My local Albertson's is having a sale on canned goods and I picked up a couple of flats of canned tomatoes and corn. Funny thing is, I had just gone to CostCo earlier in the week and bought some canned tomatoes…and they were more expensive than this sale. So the moral of the story is – you can't always assume the warehouse store will be cheaper. Now, arguably, they're not the same product….CostCo's offering was 'organic diced tomatoes' and we all know 'oganic' means virtually nothing except a higher price. (And the only reason I picked them up was because CostCo didnt have any other kind of canned diced tomatoes.)
Speaking of CostCo, after a hiatus of a few months they appear to have the canned  Kirkland Roast Beef back in stock. Normally, I turn my nose up at canned meats….they all look and smell like cat food once the can opener punctures the can…but the Kirkland roast beef, once you toss it in a pan for a few minutes, turns out to be darn good. So, why wouldn't I grab a few of them to put on the shelf?
When it comes to storing all this canned stuff, I usually go with steel wire shelving (also available at CostCo).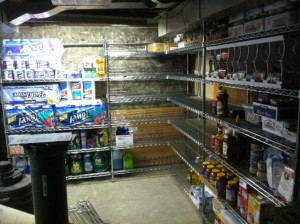 I tlooks good, handles the weight, and is configurable to allow me to have it follow walls and corners. Yeah, it runs about $100 for a six-shelf unit, but pick up a bag of S-hooks and you increase the versatility and get better value out of your existing sets of shelves.
I like these little can organizers from Shelf Reliance. They're plastic and link/stack together so you can just run 'em along the length of shelving. If you're truly hardcore, or have a huge enough family that #10 cans a re a mainstay, they also make a similar product for #10 cans. Thats when you konw you've arrived.
Of course, any goober with some plywood, a saw, and a screwgun can fab up a similar product on his won but I'm kinda lazy and rather enjoy the consumer experience…so I just buy this sort of stuff.
The sale at Albertsons is for another few days so I'll see if I can scrape up another few bucks to get some more flats. I'm very painfully aware that food I buy now may someday be all thats standing between me and being hungry.