Like many folks, I keep an emergency bag in the truck for that occasion when the only thing standing between me and an embarrassing death is whatever I managed to tuck into the bag. In Montana, your choices of how to shuffle of the mortal coil in a vehicle related stranding are pretty easy – you either starve to death, freeze to death, or dehydrate to death. (Or any combination of the above.)
If you're smart, and I hope you are, you'll pull that bag out every so often and check the contents for any problems that may have arisen from being stored in a vehicle where temperature swings can easily span 120 degrees.
Case in point: my flashlight. For personal use, I like small LED flashlights that run off of lithium batteries of some sort…either AA or CR123. They are far less sensitive to temperature swings and self-discharge than the usual batteries. For vehicle use, I prefer the Mag-Lite (Yes, it's actually hyphenated…says so right on the light.)
What I like about the Mag-Lite is that, in the LED version, you have an essentially bomb-proof flashlight. You can drop it and not worry about bulb breakage, it resists mosts damage, and it can always be used for 'percussive persuasion' if the situation calls for it. Problem is, the ones I like take D-batts and finding lithium D-batteries is virtually impossible and when you do find 'em….they ain't cheap. Interestingly, lithium 9v. batts are available…I suspect for smoke detector usage.
When I put the Mag-Lite away in the bag I made sure to load it up with fresh Duracell batteries. I then set aside two extra sets of batteries as well. So they've sat out there in the heat and cold for over a year. I turned on the flashlight and compared it to a similar Mag-Lite with fresh D-batts and the results were…illuminating.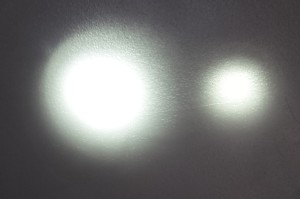 Clearly the batteries has suffered over the course of the year, what with the huge temperature swings that make Montana such a delight to try and dress for.
Now, yes, i could avoid this problem altogether by simply going to a flashlight platform that uses AA lithium batteries, which are easy to find. But I want the big, reassuring heft and handling of the large Mag-Lite.
So, the moral of the story here is – change out those in-vehicle flashlight batteries at least every year. And if you really wanna go the suspenders-and-a-belt routine do it like you're supposed to do with your smoke detectors and change the batts every time you reset the clocks for Daylight Savings Time.