When I was a kid, I loved playing with flashlights. One time I came across a military anglehead flashlight and I was a bit perplexed. All the flashlights I had played with previously were basically tube-shaped with the light coming out of one end of the tube. The GI flashlight was bent into an L-shape and holding the flashlight to get the beam pointed in front of you wasn't as natural a movement as with the other kind. So…why the awkward design?
Of course, as a little kid it didnt occur to me that when your hands are full (as with a rifle or gear) you needed to hang the flashlight on your webbing and for it to point straight ahead the flashlight had to be in that L-shape.
Nowadays there are several 'wearable' flashlight for this sort of thing. A few years back I purchased a Streamlight Sidewinder. It's been part of my casual everyday carry gear for a while now and it's worth remarking on how it's held up and how satisfied I am with it.
The Streamlight Sidewinder is, basically, a 2-AA battery flashlight with four different colors of bulb, and four settings of intentity, with a swivel head. That's the short version. Longer version is that I've found it to be an immensely useful small flashlight. Many times I just drop a little 1-AA light in my pocket and go with that, bur for a more dedicated kit or layout of gear, the Streamlight is my go to.
First off, it's available with four different color LEDs. You can do white/blue,red/IR or white/blue/red/green. I went with the IR model since you never know when you'll need to have that sneak factor working in your favor.
The light has one knob with a push button that controls all functions. Push and hold to turn on, and continue to hold to cycle through four levels of brightness. Double-click for flashing strobe mode. Twisting the knob, rather than pushing it, selects which LED is active. There's a tactile index point so you can select LED's in the dark.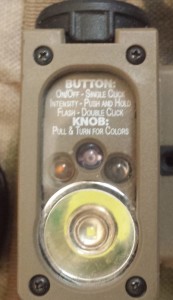 The Sidewinder has a captive battery compartment lid, which I think is an awesome touch and a sign that someone really sat down and put some thought into this thing. No need to worry about losing the battery compartment lid in the tall grass or in the dark if you're changing batteries. There are also tactile indicators for battery polarity so you can, literally, change batteries in the dark or with your eyes closed.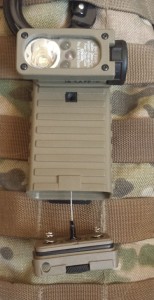 The Sidewinder clips to your webbing or whatever using a spring metal clip on the back. In addition to the clip, there is an attachment point for a lanyard or keeper so your light doesn't go missing if you take a tumble.
The base of the unit is flat, and in conjunction with the adjustable angles head allows you to set the light on a flat surface and point the beam where you want it. One disadvantage is the range of motion for the swivel head…if you have the unit seated on your webbing or otherwise on your shoulder/chest the head doesn't swivel down enough to light the ground at your feet…it'll light the area directly in front of you, but not directly beneath and in front of you. This can be remedied by carrying the light upsidedown on your person, but be careful it does't slide off your gear and get lost.
It's an excellent light for what it's designed for – navigation and detail stuff. It's not the sort of thing you use to light up a field or spotlight something, but for trotting down trails in the dark, navigating pitch black interiors, or examining things where you need both hands free, it excels. As of late, I've been spending time in a library facility two stories underground. I notices their emergency lighting is virtually non-existent, so this is the light I take with me in my bag…just in case. I can wear it on the shoulder strap leaving me both hands free to open doors, move obstacles from my path, etc, etc.
They aren't cheap. In fact, they're kind of expensive. But mine has held up virtually undamaged over the last several years and I have confidence that if I secure it to my bag and leave it there, it'll always work no matter how wet things get or how much rough handling it experiences.
There are a few clip-to-your-gear lights out there using LED's, and I have tried a few of them (and found them wanting) but so far the Sidewinder gets my nod for being the best one out there that I'm aware of.