A guy driving a truck manages to kill (according to current numbers) more people than a guy shooting a rifle in a crowded nightclub. That's interesting to think about since pretty much any yahoo can head down to U-Haul, load up a panel truck with some inertia-inducing weight, dial it up to 60 mph and plow into a Farmers Market on any given Saturday.
The quick response is "this is yet another reason to always be armed", which is a tad misleading if you know basic physics. There's nothing you can shoot that isn't crew-served that's going to stop a couple tons of mass clipping along at 40 mph. On the other hand, reports are suggesting that after his episode behind the wheel, the driver came out shooting, at which point..yes…time for a  bullet party.
What probably would have made the biggest difference didn't sit in a holster, but rather between the ears – situational awareness. Know the risks, know the potential chokepoints, kill zones, bottlenecks, etc….be aware of who is around you….recognize that being in a cluster of poeple might make you more of a target than being alone..know where the nearest exit is. That sort of thing.
Sad state of affairs, but that's the way the world is today and probably will be that way for the rest of our lives. Folks like you and I, people who are used to thinking this way about personal safety, will probably adapt to it quite easily and quickly. We already operate in Condition Yellow most of the time when we're out of our homes. For us, it's second nature. Most every cop I know operates with a heightened Condition Yellow as their default setting. Same for a lot of military guys. Check your factory setting and adjust as necessary.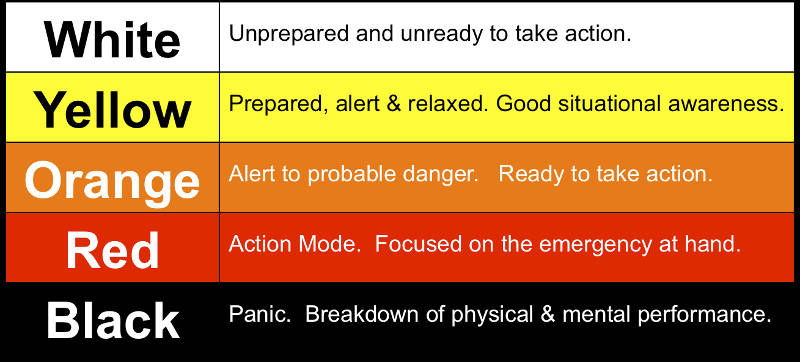 It's an ugly world out there, and Bad Things really can come wearing a thousand different faces. You may not be ready for all of them, but you'll still be miles ahead of the oblivious, normalcy-biased souls who stand around texting "OMG terror attack" when the smart person is beating feet in the opposite direction.
"It's a real war, kid…it's here every day."