Being a survivalist, you tend to 'go long' on stuff…a hundred rolls of TP at a time, canned goods by the case, socks by the dozen, etc. On a long enough timeline, all this stuff will get used. Some sooner than others. For example, the canned goods will probably get used up within a year or two, but some things, like the #10 cans of freezedrieds, are meant to never be used. They are a 'only in case of apocalypse' sort of thing. Some other items, like the bulk AR mags I bought a few weeks ago, aren't meant to be used but rather tucked away safely for, probably, at least a decade or two.
Items that are meant to be put into long, long, long-term storage are referred to around these parts as 'Deep Sleepers'. They are items that are not intended to be used anytime within the foreseeable future. And, honestly, probably not even after that.
Case in point, the recent stash of Magpul AR mags. I have no intention of using them. I have enough mags on hand to handle my needs for quite some time. So, this recent batch of Magpuls are Deep Sleepers. They are there as a ward against a new ban, in case the next civil war breaks out, or some other Very Bad Thing happens.
First thing we do is stuff them away into a clean, solid, ammo can with good seals. They're arranged carefully and sealed up in the ammo can. Once the can is closed up, I put a couple loops of poly strapping around it. This serves two purposes – first, it makes sure the lid stays closed. Second, it keeps me from sneaking a mag or two out of there when I think "Ah, I'll just take a couple from the stash and put them back later." (Trust me…you are your own worst looter.) Once that can is sealed up it gets marked up with the contents and quantity on it..preferably on each side and top so I can see at a glance whats in it. After that, I write the contents on a 'key tag' and wire it to the bail on the ammo can. After that, the can gets tucked way back in storage and…byebye, baby…see you in twenty years. Once that's done, the records (I use Evernote and Excel) are updated. In Evernote, this is tagged as "magazines","Deep Sleeper", "Storage", "AR", and "MagPul". I also make a note that this is an item that does not need to be periodically inspected.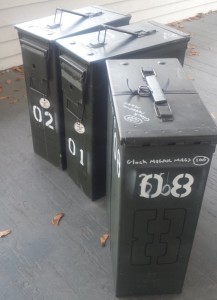 That's it. Right now, as I think about it, Deep Sleepers include stashes of magazines, clothes, freezedrieds, and a few other things. But, most importantly, I know what I have, how much of it I have, where I have it, and how well it is stored. Peace of mind.