I'm fond of saying that if you wind up stranded in your vehicle in any climatic extreme, cold winter or hot desert summer, that you are better off staying with the vehicle than you are trekking off, ill-equipped, to get help. From what I've read in the news, I'd say that nine out of ten times staying with the vehicle is the smart choice. I've posted plenty of news reports about people who wandered off 'to get help' and were never seen alive again. But the key to staying with the vehicle and surviving is to have a certain base level amount of gear to make such a stay more conducive to your survival.
In the land o' preparedness, we often talk about bugout bags, get home bags, and a handful of other such things. No one really gets too into their 'stranded in the vehicle' kits. Maybe they aren't sexy. The notion of the rugged individualist donning his bulging backpack and setting off to find help is far more exciting than that same rugged individualist wrapping himself up in a blanket, reclining his seat, and reading a copy of 'Atlas Shrugged' while waiting for the Highway Patrol to find him.
Since it's the winter season and this sort of topic is the low hanging fruit of the survival blogging world, I figured I'd go on a bit about what I usually tote around in the winter. Sure, there's always the usual winter get-me-unstuck gear like a shovel (or two), traction sand, etc. but for actually staying in the vehicle and waiting for help gear…well, here you go: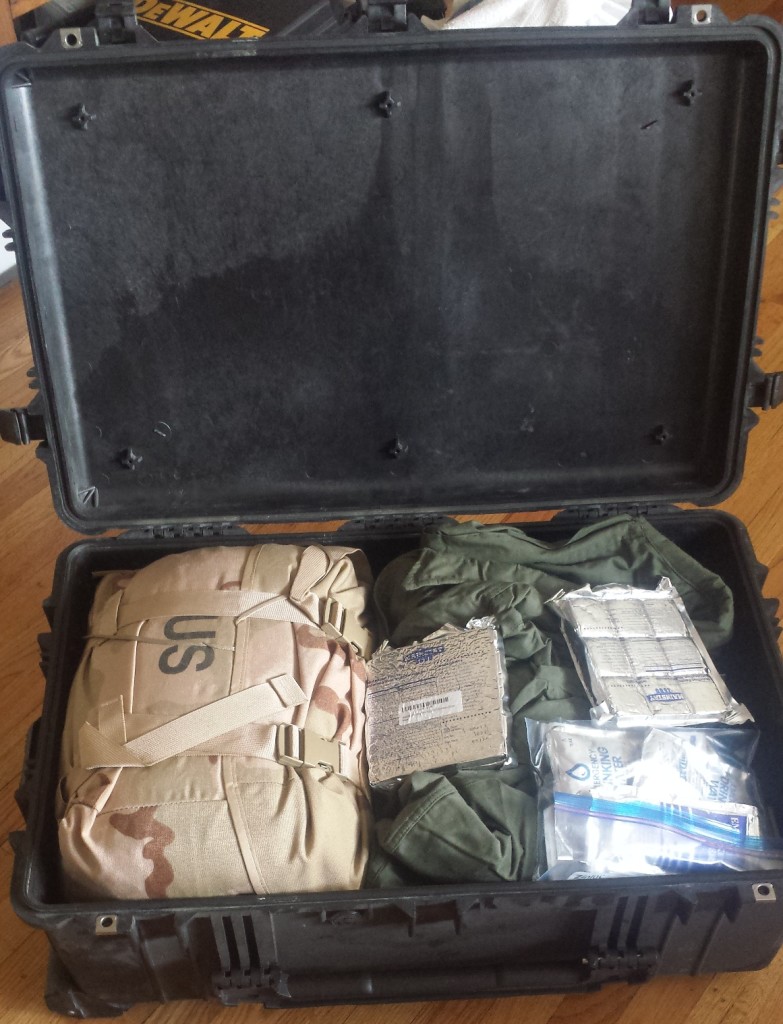 The container in question is a Pelican 1650. It's large enough to hold a complete military sleep system and a buncha other gear. The problem with listing the contents of a kit of any kind is that invariably someone will chime in with 'what about…' or 'do you really need….'. So, let's forestall that by saying that this is an incomplete list of whats in there: sleep system, food ration bars, water packets, complete change of clothes vacuum sealed, candle lantern and accessories, toilet paper, parachute and hand flares, flashlights, spare batteries, knife, pen and paper, a couple thick paperbacks, poncho, water filter, portable radio (takes same batts as flashlight), first aid kit, entrenching tool, backpack, Esbit stove and tabs, canteen and cup, and a few other niceties.
The Pelican case keeps everything protected, tidy, and in one place. I can simply roll it out to the vehicle, toss it in the back, and we're good to go. The case is rugged, waterproof, crushproof, and because of this I can either leave it in the vehicle or outside the vehicle exposed to the elements and the contents will remain safe and dry. But…suspenders and a belt: any piece of critical gear (warm clothing, electronics, etc.) gets vacuum sealed anyway as an extra layer of weatherproofing. (And this is why having a vacuum sealer is a smart idea even if you never plan on using it to put away bulk pork chops you bought at CostCo.)
Why the backpack? Because, if for some reason you do have to leave the vehicle it would be nice to take as much of that gear with you as possible. When you read about the people who left the vehicle and died, invariably the cause of death was one of two things: hypothermia or dehydration. Being able to take your gear with you lowers that risk factor tremendously.
The logistically-minded of you will think "Hmmm…why not just keep everything in the backpack and that way you're ready for anything". Great idea, but unfortunately it wont fit in the Pelican case loaded up, and I very much want the convenience and protection of my gear that is afforded by using the case.
Keep in mind, also, that the things in this case are in addition to the usual stuff-kept-in-the-vehicle…things like road flares, water, flashlight, USB charger, batteries, first aid kit, pioneer tools, etc. (And, yes, there's a few redundancies.)
In a perfect world, I'd be sitting by the side of the road, after the blizzard has shut down the interstate, tucked safely far enough off the side to avoid crash trajectories from soccer moms in their four-wheel-drive SUVs, sitting in my sleeping bag, reading a book, listening to the radio, awaiting notice that the roads have re-opened and are safe to travel. Worst case, I pull further off the road, fold down the seats, roll out the sleeping bag, and spend a quiet night asleep or playing games on my phone.
I'll pull some of the stuff outta the case and show you what I carry around in the winter. Your mileage may vary, of course, but it should be entertaining nonetheless.