You guys know that saying about how when it comes to war, the amateurs talk strategy/tactics but the pros talk logistics? I think when it comes to preparedness the amateurs talk guns, the pros talk logistics. And, yes, this is new nothing new….I've said it before. But, the fact I've said it before doesn't detract from it being true (IMHO).
In the last 365 days I can count the number of times I needed a gun, body armour, and night vision on one hand. However, on virtually every one of those 365 days I had needed food, water, clothes, shoes, toilet paper, etc. So, when apportioning money for resources, where does the lion's share go? Yup, to the unsexy things like paper towels, socks, canned goods, toothpaste, and that sort of thing.
There is no doubt in my mind at all that there is definitely going to be a time when an M4, ceramic plates, hands-free commo, and a buncha webgear is going to be exactly what the moment calls for. But, that's one time out 100…the other 99 times out of 100 I'll be needing/using all the unsexy preparedness stuff.
I was reminded of it yesterday as I was going over my budget for the month. I got hungry and it was time to make dinner. Felt like some chicken and rice would be just the ticket. Reach deep into the freezer and find this: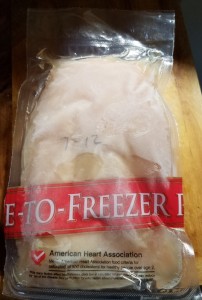 Yup…five year old chicken. Been sitting in the freezer quietly for the last five years. Is it good? Yup…cooked up and went down just fine. But because of foresight five years ago, it was there for me last night when I was hungry. And there's also a couple cases of 7.62×39 sitting next to the freezer, because that same foresight says that someday I'll need that too. But which one usually winds up getting used soonest? The unsexy stuff.
Being something of a Ballistic-American (aka "gun nut") I loves me some thundertoys. And preparedness is definitely one of those interests where you get to justify to yourself (if you are the type that needs to do that sort of thing) your purchases of guns and ammo. But its 'preparedness', not 'warfighting'….and preparedness encompasses a lot more than guns. Thats why we have "guns and…" Guns and…toilet paper. Guns and …canned food. Guns and…extra clothing. Guns and…Ham radios. you get the idea.
But, what's the first thing people jump at doing when they decide it's time to 'get serious' about preparedness? In my experience, nine times outta ten it means the go buy some guns and ammo. Which is fine, but the apocalypse (no matter what flavor of it you expect) is going to be so much more than guns and ammo. The AR and M855 are just one instrument in the orchestra that plays the preparedness symphony.
Unfortunately, the sexy stuff like guns, ammo, armour, smoke grenades, night vision, etc, etc, are subject to more scrutiny than, say, a case of Spam and a bucket of rice. There is always the real possibility that you could wake up tomorrow and find that, on a local/state/national level your access to ownership of those things is cutoff or severely curtailed (looking at you California!)…the same risk to, say, freeze dried food, buckets of rice, AA-batteries, quality boots, and neosporin is virtually nil.
This is why, for me, I'm "heavy" on guns and ammo. I want a lifetime supply but I don't have the luxury of a lifetime to collect it. Since tomorrow could possibly the last day I have to acquire a 'black rifle' and 'hi cap' magazine', I would like to have as many as I can in place just in case some sort of regulatory shenanigans takes place. Succinctly, I'm virtually 100% positive I won't be prohibited from buying canned tomatoes and paper towels a year from now, I cannot be so certain on the gun stuff.
And, yes, tomorrow could also be the last day I have to acquire canned bacon and frozen pizza as well. But, historically, the threat/risk to one has been greater than the other.
My personal flavor of apocalypse is economic. It could be a worldwide depression that throws us into a Third World life of living like Venezuelans, or it could be me breaking a leg and not being able to work for two months…but, in my world, thats the most likely apocalypse I see coming. And in that case, I'll probably get far more mileage out of my blue barrels of rice and my #10 cans of freeze dried pork chops than I will out my HK91 and Lake City ball.
So, I would never discourage anyone from buying guns and ammo, but I do suggest tempering the buying spree with a little prudence and logic about how much of a percentage of your budget should be spent on things you shoot versus things you eat or use every day. It's the unsexy and unfun part of preparedness but it is probably the most important part.
(Which reminds me, finish off your 'hicap' AR mag needs in one fell swoop.)