I was knda excited yesterday. A new Costco-ish restaurant supply place opened up in town yesterday. Obviously, I don't have a restaurant but what I do have is an interest in bulk food at low prices. So…off I went.
The biggest problem was that many things are in Costc-size packaging. Sure, it's a great deal on ketchup but it's in a 5-gallon bucket that, once opened, won't stay good until I'm done with it. Lotsa that. But there were a few things that were of interest to the survivalist type. In a display that would make any homeless hardcore-alcoholic salivate, there was a bulk amount of Sterno products: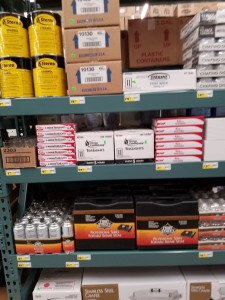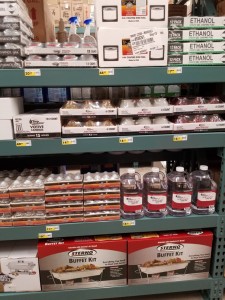 There was also a huge amount of paper/plastic tableware…whcih is handy to have when you dont want to waste time and hot water in a crisis.
If you're a beans-n-rice kinda guy, there was plenty of that as well: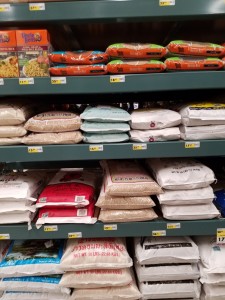 The meat department had the huge cuts of meat all wrapped up in heavy plastic nad ready for cutting. That was a pretty sweet deal. They also had bulk italian sausage, which is always a staple in this household. (especially after this and this ).
All in all, the prices were okay. Some stuff was stupidly not-a-bargain (Coke for example), but other stuff was. There was also a great selection of frozen entrees and appetizers. For my needs, there were a few things in there that were worth making the trip. For a non-survivalist, convenience standpoint there was definitely some good stuff….for example, a few bags of frozen dumplings are nice to have for a quick meal.
If you're in Missoula, check em out but keep in mind it's geared more towards commercial kitchens, so you may have trouble with the product sizing.