A few years ago I came into a Ruger 9mm of some fashion. It was either a P89 or P95…I can't recall. But the price was right and I thought it would be a good idea to have a cheap, disposable, quality handgun around. I went on GunBroker to see if I could pick up a few spare magazines. I wound up finding an auction for a lot of 11 factory magazines. As it turns out, I won the auction with a ridiculously low bid. So now I had one handgun and a dozen magazines. This is the part where I fall into the rabbit hole.
I figured since I had one handgun and a dozen magazines, it would make sense to get another handgun and allocate the magazines accordingly. Fast forward a few years and a dozen Rugers later…well… you know how that goes.
So, now I have all these Ruger P89/P95 handguns that take the same magazine. Convenient, but a little awkward as well since the Ruger P-series was never much of a barnburner in terms of popularity. Since I avoid non-factory mags whenever possible, I try to buy used Ruger-made mags. Here's where it gets interesting. All of those double stack 9mm mags pretty much look alike. How do you you tell the Ruger factory mag from some crappo USA Brand or other sheet-metal abortion?
Well, having a stash of mags here for guidance, I'm going to provide you a quick tutorial, as I understand it, on identifying and distinguishing Ruger factory mags from the non-factory mags. For 99% of you, this post is worthless. But, for those who do like the P-series, you might find this useful.
P-series 9mm factory mags came in, basically, four styles:
Full-capacity, blued
Full-capacity, stainless
10-rd capacity, blued
10-rd capacity stainless
There were some oddball compact variants in the 9mm P-Series (P93, P94) but it appears they shared the same magazine.
All the 9mm P-series utilize an ambi mag release that puts the mag catch on the front of the magazine. If your mag doesn't have a notch on the front of the magazine, it's not for a P-series gun.
Ruger-made mags, as opposed to contract-made-for-Ruger mags, have a distinctive caliber marking stamped on them.
The easiest and fastest way to tell a Ruger P-series factory 9mm mag is by the baseplate. Most of them have a thick 'bumper pad'-type baseplate. Some have the Ruger logo, some do not. Both are factory mags, however.
Since most aftermarket mags have a flush-fit unmarked baseplate, other identifying features need to be present to assure that the magazine is factory made.
Ten round magazines had a truncated metal body and then a plastic 'spacer' at the bottom of the magazine to give it the overall length of a full-capacity magazine. On some ten-round magazines there is a hole in the baseplate for a punch to allow disassembly of the magazine, other models of ten-round magazine do not allow disassembly and the plastic space is permanently fixed to the mag body by a roll pin going through the mag body and spacer.
It also appears that during the decade of 10-rd magazines, Ruger also made 'restricted' magazines for law enforcement and military users.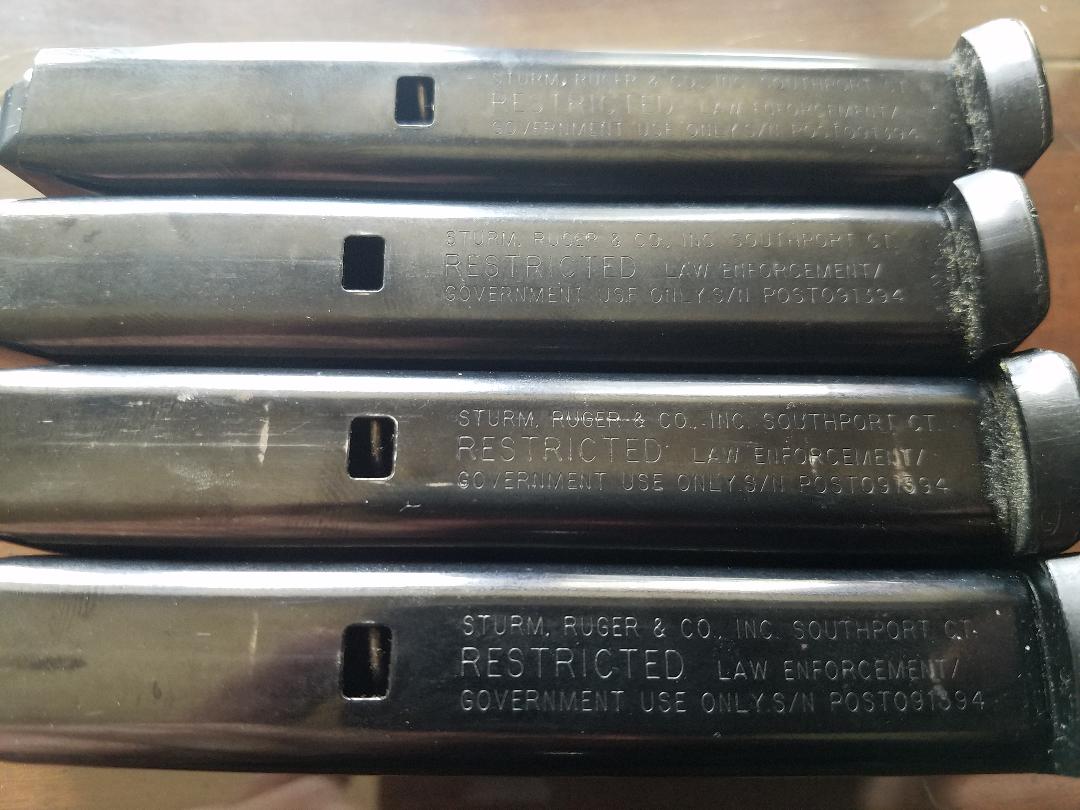 Magazines also usually have a groove running lengthwise down the side of each mag. This groove is absent in factory magazines that have flush-fit baseplates.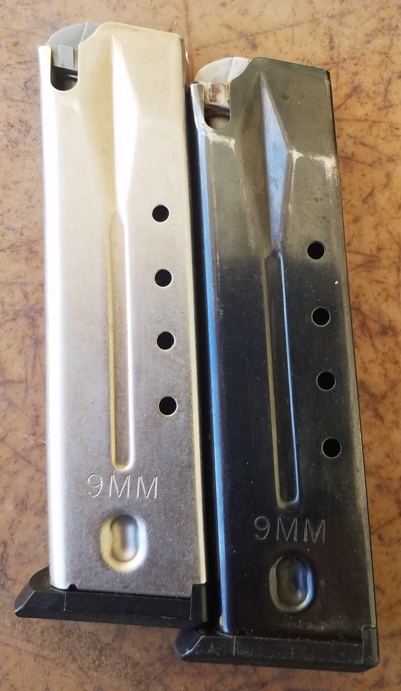 From appearances, it looks like Ruger handed off manufacturing of the P-series mags to Mec-Gar. Mec-Gar mags are identical to the Ruger non-basepad factory mags in virtually every regard. The Mec-Gar branded mags differ in finish and placement/number of witness holes. All the Ruger factory magazines I have observed have 3 or 4 witness holes on both sides of the magazine. The Mec-Gar do not. To the best of my knowledge, Ruger never offered any 'extended capacity' magazines for the P-series…all those 20-, 32-, and 40-rd magazines are aftermarket and probably of dubious reliability.
Factory mags get the highest marks for reliability, and the Mec-Gars are pretty much tied for that with the factory. Other brands such as ProMag have mixed reviews, and no one has anything nice to say about USA brand mags. For best results, I would recommend sticking with the factory mags, factory mags made by Mec-Gar, or Mec-Gar's own version.