Canned meats are something that, no matter how objective I try to be, always elicit a shudder and a mental "Ewwww". I mean, just about every form of canned meat, when opened, whether it is Spam, chicken, beef, hash, whatever, smells and looks like cat food.
It was only with great trepidation and great surprise that I was willing to try the CostCo canned roast beef and discover that, once you fry it up, it's really quite good. In fact, it was so good we have added it as a regular inventory item to our spreadsheet of stored food.
Up until now, most canned meats are pretty basic: canned chicken, canned pork, canned salmon, etc. But things are starting to get a little more 'niche'. An example was this that I found in WalMart: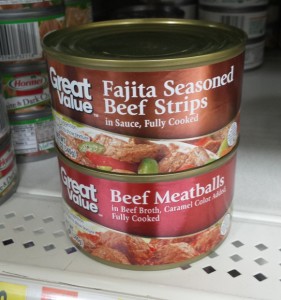 Canned beef fajita strips and canned meatballs. Part of me was quite curious about this stuff and another part of me was slightly nauseous contemplating how badly these things could turn out. Yes, I was a coward and took a pass on these…mostly on the strength of WalMart being known for 'low prices' and me not wanting to know where the corners were cut on these cuts of meat. BUT…it is interesting to to think that with some stored pasta, a jar of spaghetti sauce, and a couple cans of meatballs, you could have a hearty comfort-food meal with a shelf life measured by election cycles.
Interesting the things you see when you start mindlessly examining everything on the 'canned meats' shelf at WallyWorld.