Unsurprisingly, I had a bunch of loose .223 ammo sitting aound that really needed to be organized better. A cardboard box full of 1000 loose rounds of ammo is no way to show up for the apocalypse.
When I go to the range, and I'm shooting .223 (or 5.56 [and, yeah, I know they're different]) I usually pack them in a plastic 50-round ammo box. Other than keeping things neat and tidy, it also keeps me from turning too much money into noise.
But…for packing ammo away for that rainy day, I rather prefer to store .223 in bandoleers.
If you're not familiar with them, a proper bandoleer contains a cloth bandoleer, ammo on stripper clips, cardboard inserts for the bandoleer pockets, a stripper clip guide ('spoon'), and a safety pin to hold the spoon to the bandoleer. This is pretty much how they've been packing the stuff since Vietnam.
The idea is not, as some geniuses would have you think, to carry this stuff around and then load magazines from stripper clips in the heat of battle. The idea is that it's a convenient way to stage and transport a basic loadout of ammo. Original bandoleers were seven pockets holding 20 rounds each, for a total of 140 rounds. Of course, that was back when 20-round magazines were the norm. Nowadays there are bandoleers out there that are four pockets holding 30 rounds each. I'm a bit of a worst-case-scenario kinda guy, so I go with the seven-pocket bandoleer but put three clips in each pocket.
The bandoleers, spoons, and stripper clips are quite reusuable and its the rare survivalist that doesnt have some of them floating around in the garage or in his junk bin. But those damn cardboard inserts….they tend to get lost, destroyed, and they're kind of a pain in the ass to source out. Now, I've got a shopping bag full of stripper clips, a cardboard box full of bandollers, and no 3-clip cardboard inserts. What to do, what to do…….
Naturally enough, a quick trip to Amazon showed that, yes, you could get the 3-clip cardboards there. Gotta love that instant gratification enabling that is Amazon. Ordered 'em up and a few days later -voila-: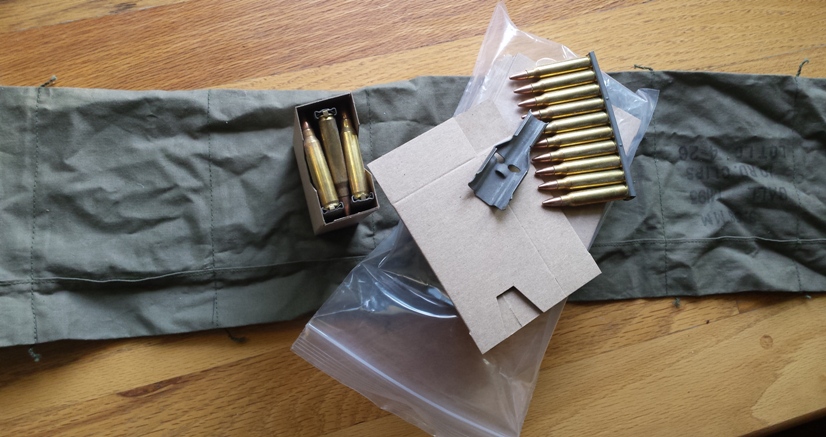 So what do you do with them once they're loaded up? Well, I dunno what you do with 'em, but I pack 'em away in some .30 cal. ammo cans until the day when I need them. Then I can grab a rifle, a couple mag pouches of magazines, throw one or two of these bandoleers over my shoulder, and head for the hills.
Is this superior to storing your ammo loose in an ammo can? I think so. For one thing, it makes an easy and quantifiable amount…one bandoleer is 210 rounds. (As opposed to a couple fistfuls of .223 which may or may not be enough to fill all your mags.) The stripper clips keep things nice and tidy, and load mags a heck of a lot faster than by onesies.
For range trips, I still use the plastic ammo boxes..but they don't fit into BDU pockets very well, are noisy, and still require you to load your mags one cartridge at a time…all things that arent really a big deal at the range. I suppose some might question the utility and practicality of the bandoleers but I find them to be a convenient way of grabbing a 'pre-measured' amount of ammo, and also a convenient way to carry it.