Years back,I used to have a bicycle that would, at irregular intervals, try and kill me by locking up the chain for no particular reason. I eventually got a newer, better, bicycle but the old Death Machine taught me to keep a first aid kit handy. On my bike I have one of these
mounted. I find it very useful, and keep my first aid kit in there. The first aid kit is one of these (Maxpedition FR-1 Pouch
) loaded with what I feel is necessary gear. Now, if you're keeping track, that is a first aid kit contained in a cordura pouch, which is itself contained within a cordura bicycle bag. What could go wrong?
Well, here's the lesson for today… I left my bike chained up in the yard over the winter. As a result, the rain and snowmelt made its way through the bicycle bag and through the first aid pouch. Check this out: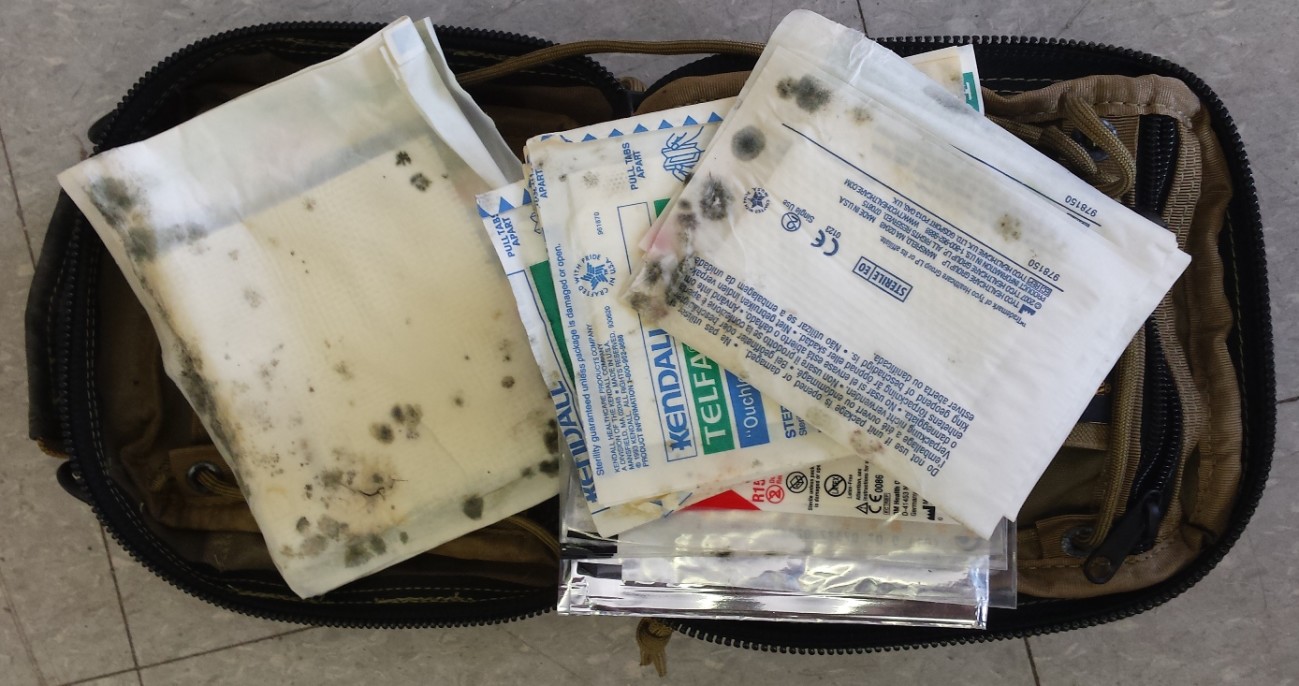 Thats not dirt, kids….thats mold. Most first aid stuff is packaged in sterilized paper envelopes and those are less waterproof. So, virtually everything was moist/damp/moldy and had to be discarded. However, some things were not damaged. Observe: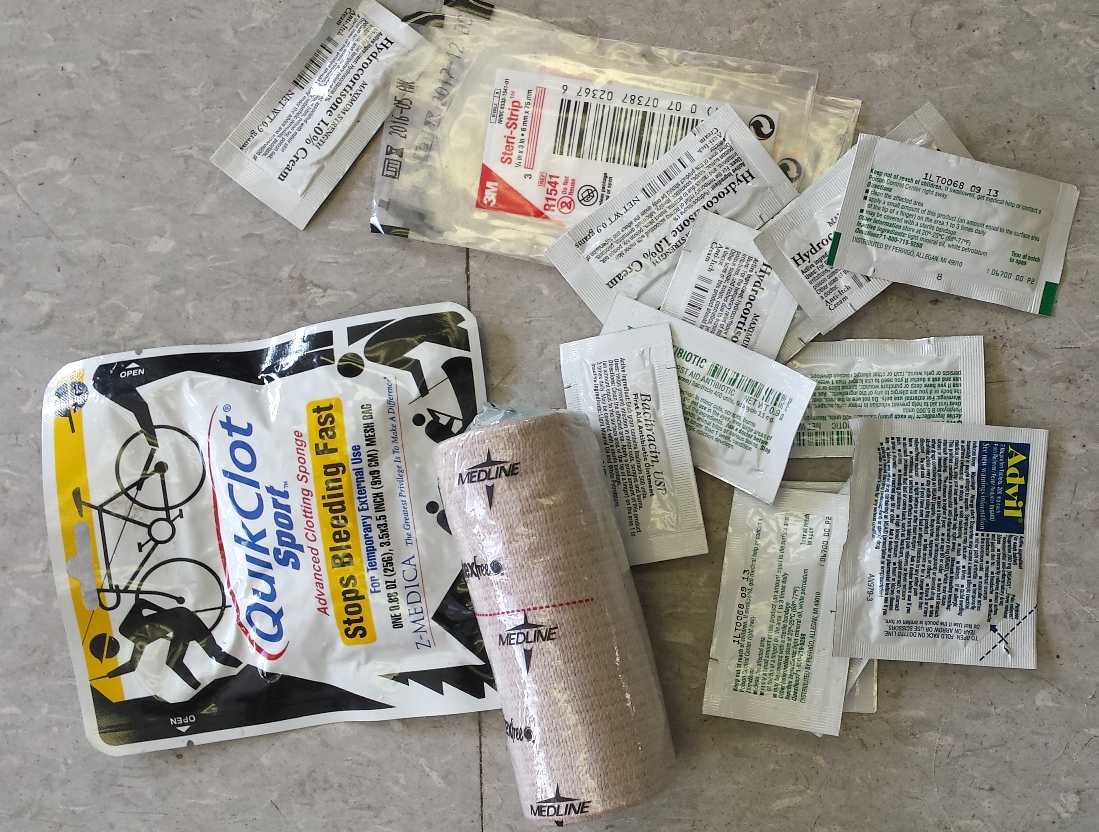 Basically, anything packed in foil or sealed in plastic weathered it just fine.
So, by now, you're thinking "No problemo, just seal up all the individual contents and you'll be good to go." A reasonable way of thinking, but it overlooks a big issue – when you need a first aid kit, theres a pretty good chance you're under stress, your hands might be a little shaky, and you may only have one hand to work with since your other arm/hand might be injured. So, sealing things up in a manner that required two hands to open (or requires several repeated pouch-opening-procedures) might not be conducive to effective use of your gear.
Now, I rather like the Maxpedition FR pouch. It's reasonably compact, fairly easy to organize, and has several methods for attachment to other gear. I'd hate to give it up. So, to me, the choices are two: a) individually seal the contents of the kit or b) put the whole kit into a waterproof container of some sort.
I'm leaning towards 'A'. Best method? Well, there's this: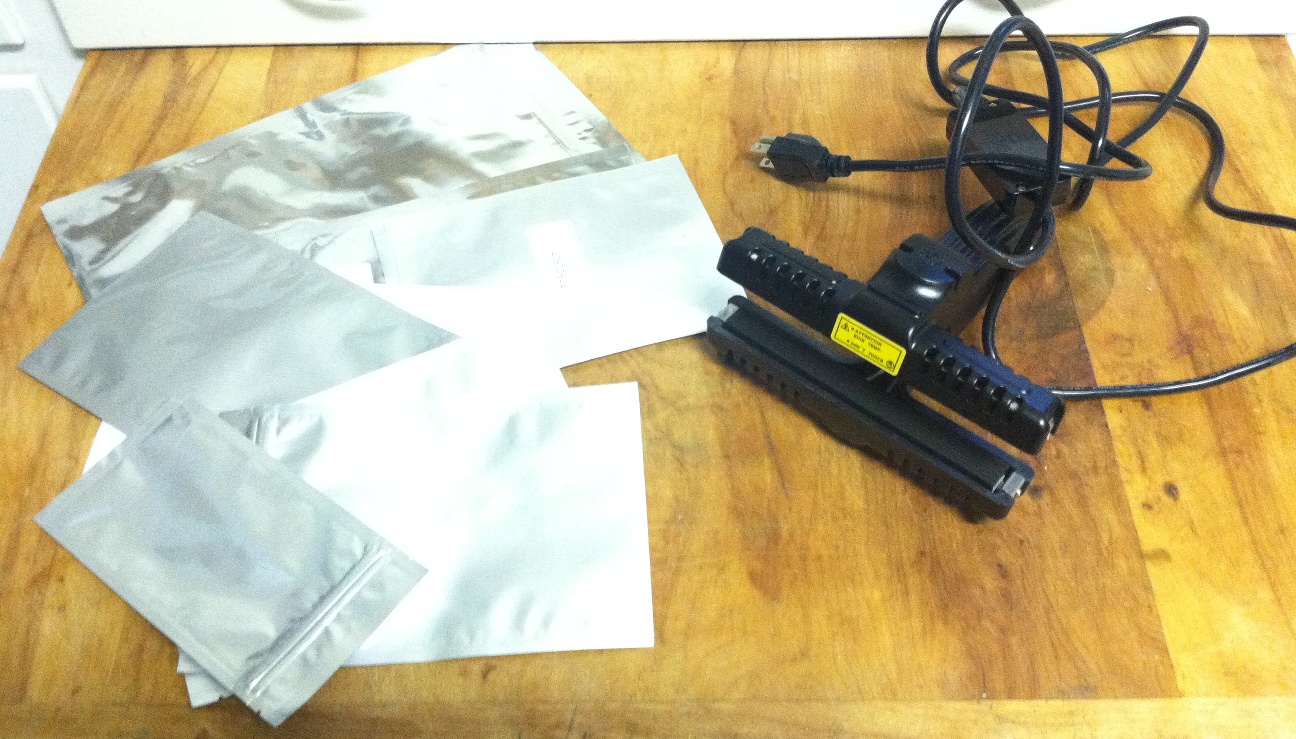 Those are heavy-duty mylar bags with 'tear away' tops and zip-seals, and a 6″ heat sealer that I picked up off Amazon. The bags, in various sizes and thicknesses, are from Sorbent Systems. I got them expressly for the purpose of making small, weatherproof, resealable, firs-aid kits for my hunting and outdoors gear. For example: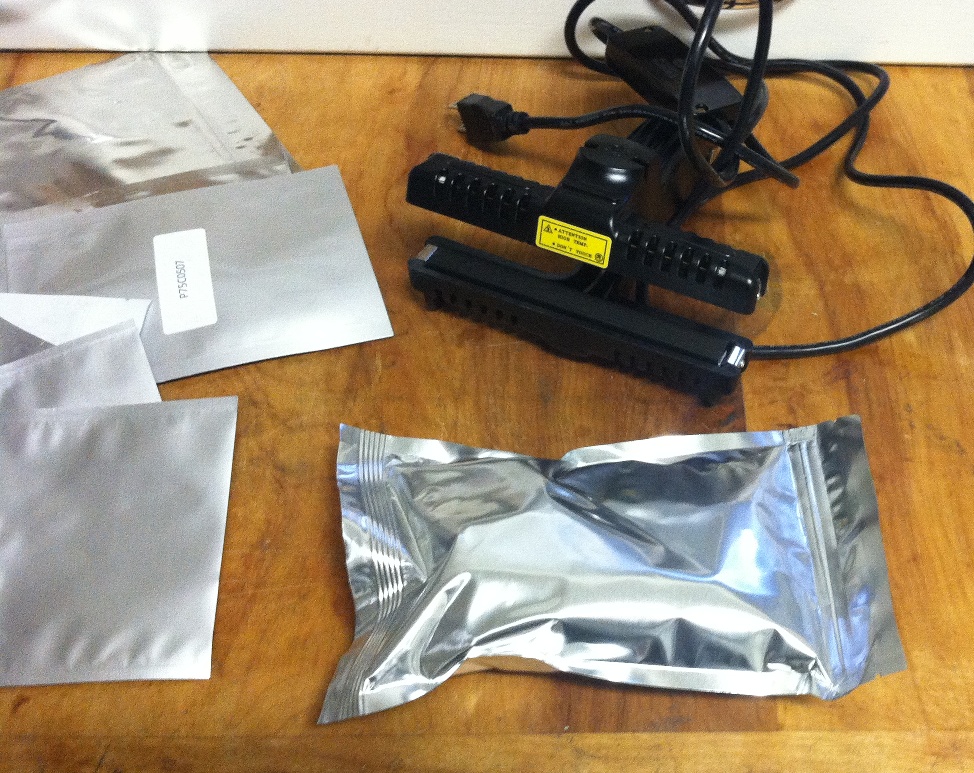 That pouch contains most of the important stuff…gauze, non-stick pads, compress bandage, antibiotic ointment, bandaids, aspirin, tape, etc, etc. Not enough to do surgery or fix a detached aorta, but for the cuts, burns, scrapes and bloody messes that sometimes happen from bicycle accidents, knife slips, falls in blowdown snag, etc, its pretty good. And, it is now completely waterproof. Tear open at the upper corner there with your teeth and open it like a bag of chips. When done, you can reseal it with the ziploc-type closure. When the crisis is over, since I have a stack of these bags, I can simply transfer the contents to a new bag to seal. I'll wind up getting a larger back, drop the Maxpedition FR into it, throw in a few oxygen absorbers to snug it up tight, and tuck it into my bike bag.
Now, if you have a vacuum sealer, you can very much accomplish a similar setup using your sealer and bags. Two big differences though: the mylar pouches pictured have a 'tear notch' to allow easy access (which a vacuum sealed bag does not); and the mylar pouch, in this heavy thickness, is much more puncture resistant than a vacuum seal bag (however, you can always wrap the vacuum seal bag in something to protect its integrity).
I have learned my lesson and won't be leaving this gear outside over the winter again, but walking around in a solid rain for a few hours would have probably induced the same amount of moisture into things. Waterproofing/weatherproofing an important bit of gear like this makes sense. Fortunately, today I noticed it because I was thinking I should probably check to see how the gear fared over the winter…it would have been a different story if I was a couple miles down the road, sitting on a rock, trying to bandage a gash in my leg with wet and moldy 4″ gauze and pads.