Go to try one of these today: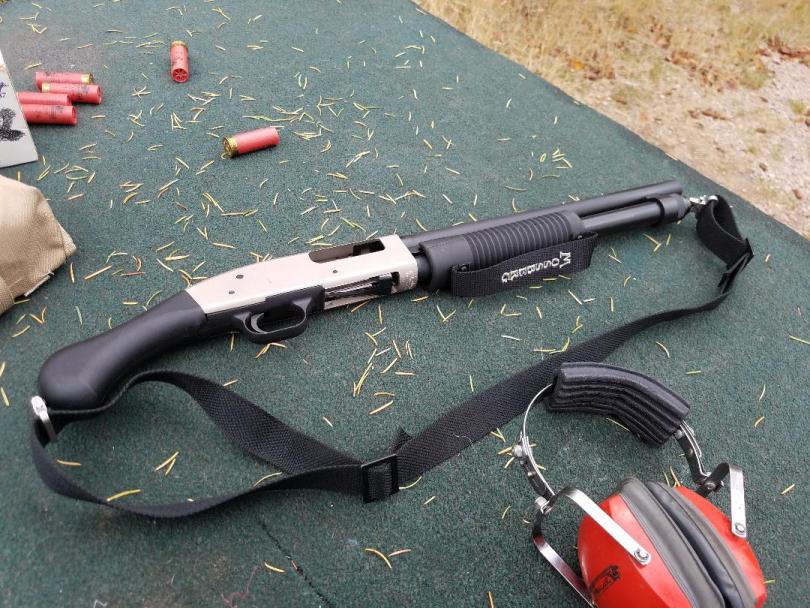 Impressions? Well…I had been pretty curious to try one. After getting the chance to try it, my enthusiasm has gone from "I need five of these" to "Eh..two will be plenty."
Now, before you say anything, yes I have seen all the YouTube videos about the 'proper' way to shoot this thing. That said, it is still wildly impractical for anything beyond 'narrow hallway' venues. Would I feel comfortable with one in the house at 2am? Maybe. But unless you think spending $390 for a gun that, in my opinion, is best used at distances where you can do target identification using the Braille system, I think there are better options.
Recoil? Well, obviously, yes, there's recoil. The furniture is too slick for my tastes. The forend, especially, was prone to sliding right out of my hand. A Hogue or Pachmyer 'rubbery' forend would be my choice. The strap on the forend helped, but my hand still slid around a bunch.
Throw a 'wrist brace' on there and I'd be much more pleased. Honestly, I'm not thinking of many circumstances where I would not be better served with a handgun or a carbine. Like a lot of niche guns, nine times out of 10 it isn't the right tool for the job. But that tenth time….
However, it has a 'cool' factor, is fun to play with, and someday they'll probably legislate it into NFA badness, so I might get one just for the sake of that. As a primary weapon, I cant see any circumstance where it would shine over a handgun or M4. But, as a 'specialty' kind of thing it might be useful. Either way, interesting to play with, and I'll probably get one, but unless it has a stock on it i'm going to relegate it to 'range toy'. YMMV.
As an autoloader, however, I might be a little more inclined to think that it has a tactical niche.