Finally got around to swapping the old incandescent light bulbs out for new LED ones. What's interesting is that the LED bulbs had a 'soft indoor' version and a 'outdoor light' version. These had nothing to do with venue, but rather color or 'warmth'. For example, if you look at most of the regular light bulbs in your house, they throw a yellowish light. As a result everything you see in your house has a bit of that color tinge in it..nothing in your house is the 'real' color. I swapped out some of the bulbs for the 'outdoor light' bulbs and discovered that what they mean by 'outdoor light' is that, like natural light outside, it isn't as tinged with other color. In other words, you put these bulbs in your household fixtures and you get to see what color your furniture, paint and carpet really is. Eye opening.
I replaced the bulbs because I was out of regular bulbs and had to go to Costco. LED bulbs provide the same light at about 1/10th the power usage so that's kind of nice. The major appeal is the stupid things are supposed to last orders of magnitude longer than incandescent bulbs…and don't bulbs always crap out at the worst times? So…LED upgrades.
As I was swapping bulbs, I passed a few of the battery operated 'puck lights' that are in the basement for use in power failures. They're little LED lights that run on AAA-batts. I keep them mounted to the ceiling studs next to the regular lights. As I was swapping bulbs I figured I'd test out the lights. And…this: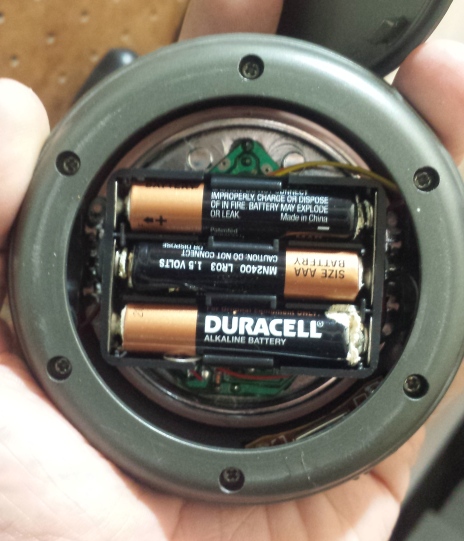 As is typical when this sort of thing happens, you've got a 50/50 chance of the device being destroyed. In this case, a little cleaning with a wire brush and some fresh batts set things in the right direction. This is why, broadly, I try not to store things with batteries in them. I haven't heard of this sort of thing happening with lithium batts, like CR123 or lithium AA's, but I suppose it may happen..I just haven't experienced it yet.
Moral of the story: those battery devices (like flashlights and radios) should probably get a six-month check to avoid this sorta thing. Put it on the same schedule as smoke detector battery changing – Daylight Savings Time changeover day.