Year end wrapups are kinda the low-hanging fruit of the blogging world, but I'm not proud.
2017 didn't result in any global disasters that would send good folks scurrying to their bomb shelters. And while there may have been regional, or even national, disasters elsewhere, my little chunk of the planet seems to have made it okay.
It was, though, not without some weirdness. For one thing, I walked around for a few days with a ruptured appendix before thinking "Hmm, maybe I should see a doctor about that." (And came *this* close to earning a trip to Stovokor.) Then, while flat on my back with three different hoses and tubes running outta my abdomen, Montana decides to shimmy with the most powerful earthquake we've had in a long while. I was not amused.
Picked up a couple P95s over the year and that was about it for gun purchases, I think.
Didnt have to use any stored fuel, emergency food, or war reserve ammo….so, all in all, a nice neutral year. And I didn't have to use my AK.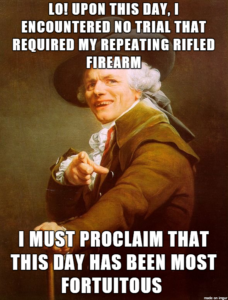 From a preparedness standpoint, it'd be nice if 2018 was gun-heavy. I would really like that new Ruger carbine, a tricked out Savage .338 Lapua, and a Glock 10mm. Be nice to get a vehicle upgrade this year too. But…gotta be a grownup. There's some loose ends I'd like to get tied up financially and it really makes more sense to do that then to spend money on what is at this point a quinary level of firearms redundancy.