It's not exactly a holiday, but today was Underwear Day. Every two years or so I throw out all my socks, all my underwear, and most of my t-shirts, and start over. Three dozen socks (all matching), three dozen boxer briefs, and three dozen black t-shirts. One pass through Costco and I'm pretty much done for the next two years. Are some socks still good after two years? Some, not many. My rather oversize feet tend to wear socks and shoes out pretty quickly. Same for my oversize genitalia and my underwear. And t-shirts, as comfy as they are, only last so long before the collars start shredding out. So…every two years I scrap the whole thing and start over. One benefit to this policy is that I don't have to match socks. In fact, if I get a hole in one sock I can toss it, keep the good one, and just mix it in with the others….they're all identical.
It's a very guy way to buy clothes.
And, if you're into making things easier on yourself, there's plenty of videos on youTube showing you how to take a pair of underwear, socks, and a t-shirt, and roll them all up into a tiny cloth burrito that makes packing easier. I find it just makes my morning less hassle. Get up, grab a sock-shirt-underwear bundle from the bin, and there's half my getting dressed right there.
I suppose there's an economical benefit…after all, prices generally only go up. But then there's the issue of opportunity cost. For me, I just like knowing that, for the next two years, I can cross one more thing off my list.  And, I suppose, if I have to leave in a hurry or something I can grab-n-go a lot faster that way.
===========
And while at CostCo: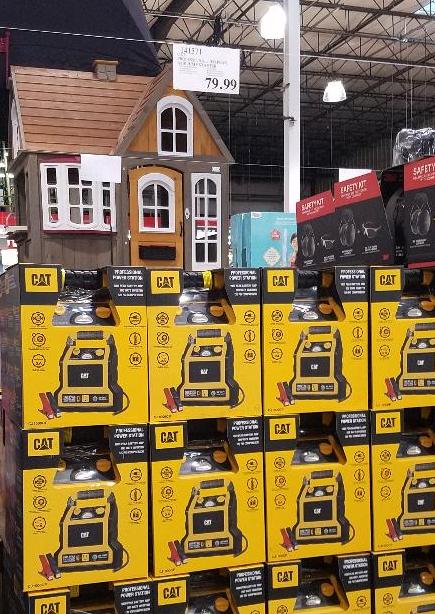 The desk lamp is still running although the battery indicator is now down to one bar. So thats, hmmm, about 96 hours so far of constant use. Assuming 8-hour use per night, thats 12 days worth of use.